New look for trailers
6th July 1985
Page 6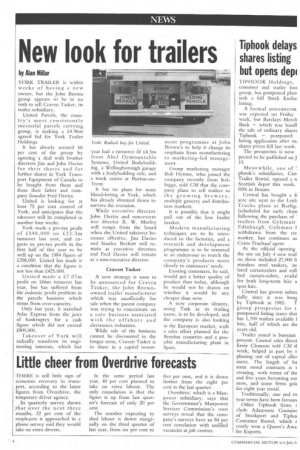 Page 6, 6th July 1985 —
New look for trailers
Close
by Alan Millar
YORK TRAILER is within weeks of having a new owner, but the John Brown group appears to be in no rush to sell Craven Tasker, its trailer subsidiary.
United Parcels, the country's most consistently successful parcels Carrying group, is making a 14.96M agreed bid for York Trailer Holdings.
It has already secured 60 per cent of the group by agreeing a deal with brother directors Jim and John Davies for their shares and for further shares in York Transport Equipment of Canada to be bought from them and from their father and company founder Fred Davies.
United is looking for at least 75 per cent control of York, and anticipates that the takeover will be completed in another four weeks.
York made a pre-tax profit of £5 4 8,0 0 0 on £23.3m turnover last year, and expects its pre-tax profit in the first half of this year to be well up on the 1984 figure of £258,000. United has made it a condition that the figure is not less than £425,000.
United made a £7.07m profit on £66m turnover last year, but has suffered from the endemic profit problem in the parcels business which stems from over-capacity.
Only last year, it snatched Atlas Express from the jaws of bankruptcy for a cash figure which did not exceed £800,000.
Takeover of York will radically transform its engineering interests, which last year had a turnover Of £.4.5m from Abel Demountable Systems, United Bodybuilding, a Wellingborough garage with a bodybuilding side, and a truck centre at Burton-onTrent.
It has no plans for mass blood-letting at York, which has already slimmed down to survive the recession.
While executive director John Davies and non-executive director R. W. Morley will resign from the board when the United takeover becomes effective, Jim Davies and Stanley Beckett will remain as executive directors and Fred Davies will remain as a non-executive director.
Craven Tasker A new strategy is soon to be announced for Craven Tasker, the John Brownowned trailer manufacturer which was unofficially for sale when the parent company was trying to concentrate on a core business associated with the offshore and electronics industries.
While sale of the business cannot be discounted in the longer term, Craven Tasker is to share in a capital invest ment programme at John Brown's to help it change its emphasis from manufacturing to marketing-led management.
Group marketing manager Bob Hymns, who joined the company recently from Kelloggs, told CM that the company plans to sell trailers to the growing brewery, multiple grocery and distribution markets.
It is possible that it might pull out of the low loader market.
Modern manufacturing techniques are to be introduced to the factories, and a research and development programme is to be restarted in an endeavour to match the company's products more closely to customers' needs.
Existing customers, he said, would get a better quality of product than today, although he would not be drawn on whether it would be any cheaper than now.
A new corporate identity, using Task as its trading name, is to be developed, and the company is also looking at the European market, with a sales effort planned for the Benelux countries and a possible manufacturing plant in Spain.