EDITORIAL
6th July 1985
Page 4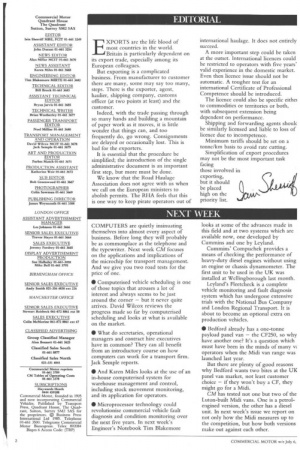 Page 4, 6th July 1985 —
EDITORIAL
Close
F4 XPORTS are the life blood of most countries in the world. Britain is particularly dependent on its export trade, especially among its European colleagues.
But exporting is a complicated business. From manufacturer to customer there are many, some may say too many, steps. There is the exporter, agent, haulier, shipping company, customs officer (at two points at least) and the customer.
Indeed, with the trade passing through so many hands and building a mountain of paper work as it moves, it is little wonder that things can, and too frequently do, go wrong. Consignments are delayed or occasionally lost. This is bad for the exporters.
It is essential that the procedure be simplified; the introduction of the single administrative document is an important first step, but more must be done.
We know that the Road Haulage Association does not agree with us when we call on the European ministers to abolish permits. The RHA feels that this is one way to keep pirate operators out of international haulage. It does not entirely succeed.
A more important step could be taken at the outset. International licences could be restricted to operators with five years' valid experience in the domestic market. Even then licence issue should not be automatic. A tougher test for an international Certificate of Professional Competence should be introduced.
The licence could also be specific eithei to commodities or territories or both, with subsequent extension being dependent on performance.
Shipping and forwarding agents shouk be similarly licensed and liable to loss of licence due to incompetence.
Minimum tariffs should be set on a tonne/km basis to avoid rate cutting.
Simplification of export procedures may not be the most important task facing those involved in exporting, but it should be placed high on the priority list