Esarco on line in '86
6th July 1985
Page 24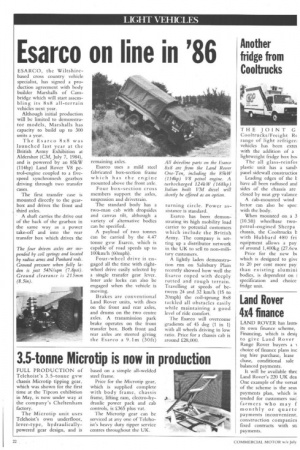 Page 24, 6th July 1985 —
Esarco on line in '86
Close
ESARCO, the Wiltshirebased cross country vehicle specialist, has signed a production agreement with body builder MarshaIls of Carabridge which will start assembling its 8x8 all-terrain vehicles next year.
Although initial production will be limited to demonstrator models, MarshaIls has capacity to build up to 300 units a year.
The Esarco 8x8 was launched last year at the British Army Exhibition at Aldershot (GM, July 7, 1984), and is powered by an 85kW (114hp) Land Rover VS petrol-engine coupled to a fivespeed synchromesh gearbox driving through two transfer cases.
The first transfer case is mounted directly to the gearbox and drives the front and third axles.
• A shaft carries the drive out of the back of the gearbox in the same way as a power take-off and into the rear transfer box which drives the
The four driven axles are suspended by coil springs and located by radius arms and Panhard rods. Ground pressure when fully laden is just 54N/sqm (7.8psi). Ground clearance is 215mm (8.5in).
remaining axles.
Esarco uses a mild steel fabricated box-section frame which has the engine mounted above the front axle.
Four box-section cross members support the axles, suspension and drivetrain.
The standard body has a two-man cab with dropsides and canvas tilt, although a variety of alternative bodies can be specified.
A payload of two tonnes can be carried by the 4.47 tonne gvw Esarco, which is capable of road speeds up to 100km/h (60mph).
Four-wheel drive is engaged all the time with eightwheel drive easily selected by a single transfer gear lever. Inter axle locks can also be engaged when the vehicle is moving.
Brakes are conventional Land Rover units, with discs on the front and rear axles, and drums on the two centre axles. A transmission park brake operates on the front transfer box. Both front and rear axles are steered giving the Esarco a 9.1m (30ft)
All driveline parts on the Esarco 8x8 are from the Land Rover One-Ten, including the 851e1V (114hp) 1/8 petrol engine. A turbocharged 124kW (168hp) Italian built VM diesel will shortly be offered as an option.
turning circle. Power assistance is standard.
Esarco has been demonstrating its high mobility load carrier to potential customers which include the British Army. The company is setting up a distributor network in the UK to sell to non-military customers.
A lightly laden demonstration run on Salisbury Plain recently showed how well the Esarco coped with deeply rutted and rough terrain. Travelling at speeds of between 24 and 32 km/h (15 to 20mph) the coil-sprung 8x8 tackled all obstacles easily while maintaining a good level of ride comfort.
The Esarco will overcome gradients of 45 deg (1 in 1) with all wheels driving in low ratio. Price for a chassis cab is around £28,000.