inbo Talbot Express
6th July 1985
Page 23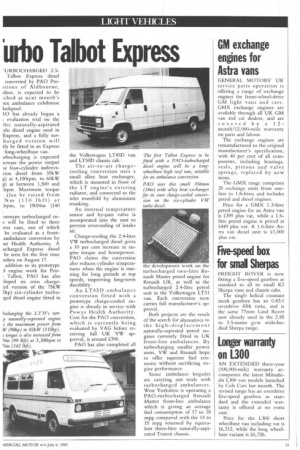 Page 23, 6th July 1985 —
inbo Talbot Express
Close
-URBOCHARGED 2.5Talbot Express diesel converted by PAO Preitions of Aldbourne, shire, is expected to be iched at next month's iex ambulance exhibition lackpool.
kO has already begun a ; evaluation trial on the 0cc naturally-aspirated Den diesel engine used in Express, and a fully turharged version will tly be fitted in an Express long-wheelbase van.
irbocharging is expected icrease the power output le four-cylinder indirecttion diesel from 55kW p) at 4,100rprn, to 60kW p) at between 1,500 and )rpm. Maximum torque also be raised from Nm (110 lbft) at )rpm, to 190Nrn (140 ototype turbocharged ens will be fitted to three ress vans, one of which be evaluated as a frontambulance conversion by int Health Authority. A ocharged Express diesel be seen for the first time mbex on August 17.
addition to its prototype engine work for Peu: Talbot, PAO has also !.loped its own chargeled version of the 75kW ?hp) six-cylinder turboged diesel engine fitted in
5ocharging the 1-T31's nory naturally-aspirated engine s the maximum power from W (90hp) to 82kW (110hp). torque is also increased from \Itn (99 II?ft) at 3,30Orpm to Nim (142 lbft).
the Volkswagen LT45D van and LT5OD chassis cab.
The air-to-air chargecooling conversion uses a small alloy heat exchanger, which is mounted in front of the LT engine's existing radiator, and connected to the inlet manifold by aluminium trunking.
An internal temperature Sensor and by-pass valve is incorporated into the unit to prevent overcooling of intake air.
Charge-cooling the 2.4-litre VW turbocharged diesel gives a 10 per cent increase in engine torque and horsepower. PAO claims the conversion also reduces cylinder temperatures when the engine is running for long periods at top speeds, improving long-term durability.
An LT45D ambulance conversion fitted with a prototype charge-cooled engine is already in service with Powys Health Authority. Cost for the PAO conversion, which is currently being evaluated by VAG before receiving full UK VW approval, is around £390.
PAO has also completed all The first Talbot Express to be fitted with a PAO-turbocharged diesel engine will be a longwheelbase high roof van, suitable for an ambulance conversion.
PAO uses this small 356mm (14in) wide alloy heat exchanger for its own charge-cooled conversion on the six-cylinder VW turbo diesel.
the development work on the turbocharged two-litre Renault Master petrol engine for Renault UK, as well as the turbocharged 2.4-litre petrol unit in the Volkswagen LT31 van. Each conversion now carries full manufacturer's approval.
Both projects are the result of the search for alternatives to the high-displacement naturally-aspirated petrol engines currently fitted in UK front-line ambulances. By turbocharging smaller power units, VW and Renault hope to offer superior fuel economy without sacrificing engine performance.
Some ambulance brigades are carrying out trials with turbocharged ambulances. West Yorkshire is operating a PAO-turbocharged Renault Master front-line ambulance which is giving an average fuel consumption of 17 to 18 mpg compared with the 14 to 15 mpg returned by equivalent three-litre naturally-aspirated Transit chassis.