Makers wait for Scottish orders
6th July 1985
Page 20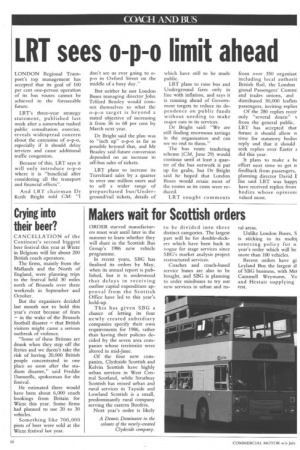 Page 20, 6th July 1985 —
Makers wait for Scottish orders
Close
Keywords :
Subdivisions Of Scotland
,
Government Of Scotland
,
Transport In Scotland
,
Kelvin Scottish
,
Stagecoach Strathtay
,
Strathtay
,
Scottish Bus Group
,
Buses
,
Stagecoach Group
,
Transport In Glasgow
,
Seddon Pennine 7
,
Eastern Scottish
,
Politics
ORDER starved manufacturers must wait until later in the summer to learn whether they will share in the Scottish Bus Group's 1986 new vehicle programme.
In recent years, SBG has finalised its orders by May, when its annual report is published, but it is understood that delays in receiving outline capital expenditure approval from the Scottish Office have led to this year's hold-up.
This has given SBG a chance of letting its four newly created subsidiary companies specify their own requirements for 1986, rather than having their policies decided by the seven area companies whose territories were altered in mid-June.
Of the four new companies, Clydesicle Scottish and Kelvin Scottish have highly urban services in West Central Scotland, while Strathtay Scottish has mixed urban and rural services in Tayside and Lowland Scottish is a small, predominantly rural company serving the eastern Borders.
Next year's order is likely to be divided into three distinct categories. The largest part will be for double-deckers which have been back in vogue for stage services since SBG's market analysis project restructured services.
Coaches and coach-based service buses arc also to be bought, and SBG is planning to order minibuses to try out new services in urban and ru
ral areas.
Unlike London Buses, S is sticking to its multij sourcing policy for n year's order which will be more than 100 vehicles.
Recent orders have gi Leyland Bus the largest si of SBG business, with Mel Cammell Weymann, Vo and Hestair supplying rest.