LRT sees ol-co limit ahead
6th July 1985
Page 20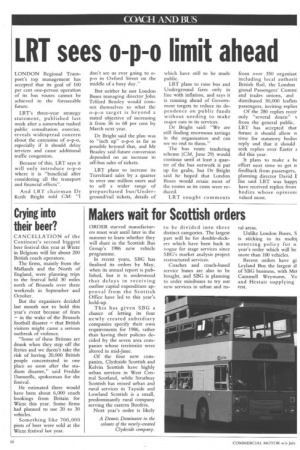 Page 20, 6th July 1985 —
LRT sees ol-co limit ahead
Close
LONDON Regional Transport's top management has accepted that its goal of 100 per cent one-person operation of its bus routes cannot be achieved in the foreseeable future.
LRT's three-year strategy statement, published last week after a somewhat rushed public consultation exercise, reveals widespread concern about the extension of o-p-o, especially if it should delay services and cause additional traffic congestion.
Because of this, LRT says it will only introduce o-p-o where it is "beneficial after considering all the transport and financial effects".
And LRT chairman Dr Keith Bright told CM: "1 don't see us ever going to op-o in Oxford Street on the middle of a busy day."
But neither he nor London Buses managing director John Telford Beasley would commit themselves to what the o-p-o target is beyond a stated objective of increasing it from 56 to 68 per cent by March next year.
Dr Bright said the plan was to "inch up" o-p-o as far as possible beyond that, and Mr Beasley said future conversion depended on an increase in off-bus sales of tickets.
LRT plans to increase its Travelcard sales by a quarter to over one million users and to sell a wider range of prepurchased bus/Underground/rail tickets, details of which have still to be made public.
LRT plans to raise bus and Underground fares only in line with inflation, and says it is running ahead of Government targets to reduce its dependence on public funds without needing to make major cuts in its services.
Dr Bright said: "We are still finding enormous savings in the organisation and can see no end to them."
The bus route tendering scheme (CM, June 29). would continue until at least a quarter of the bus network is put up for grabs, but Dr Bright said he hoped that London Buses would retain most of the routes as its costs were reduced.
LRT sought comments from over 350 organisat including local authorit British Rail, the London gional Passengers' Commi and • trades unions, and distributed 50,000 leaflets passengers, inviting replies
Of the 280 replies recei, only "several dozen" v from the general public, LRT has accepted that future it should allow it time for statutory bodies reply and that it should seek replies over Easter a did this year.
It plans to make a bc effort next time to get rr feedback from passengers, planning director David I liss said LRT was happy have received replies from bodies whose opinion: valued most.