lyland regains dit-wheel arket lead
6th July 1985
Page 17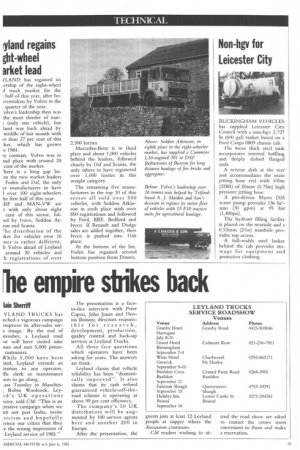 Page 17, 6th July 1985 —
lyland regains dit-wheel arket lead
Close
(LAND has regained its .ership of the eight-wheel d truck market for the . half of this year, after beovertaken by Volvo in the : quarter of the year.
'olvo's leadership then was the most slender of mar; (only one vehicle), but land was back ahead by middle of last month with re than 27 per cent of this -ket, which has grown :e 1984.
Vy contrast, Volvo was in )fld place with around 24 cent of the market.
'here is a long gap been the two market leaders Foden and Daf, the only er manufacturers to have I over 100 eight-wheelers he first half of this year. RF and MAN-VW are t with only about eight cent of this sector, fol,ed by Iveco, Seddon Atson and Scania.
['he distribution of the rket for vehicles over 16 .nes is rather different, h Volvo ahead of Leyland around 30 vehicles and :h registrations of over 2,500 lorries.
Mercedes-Benz is in third place and about 1,000 vehicles behind the leaders, followed closely by Daf and Scania, the only others to have registered over 1,000 lorries in this weight category.
The remaining five manufacturers in the top 10 of this sector all sold over 500 vehicles, with Seddon Atkinson in sixth place with over 850 registrations and followed by Ford, ERF, Bedford and Iveco. If Renault and Dodge sales are added together, then Iveco is pushed into 11th place.
At the bottom of the list, Foden has regained second bottom position from Dennis. Above: Seddon Atkinson, in eighth place in the eight-wheeler market, has supplied a Cummins LW-engined 301 to DSF Refractories of Buxton for long distance haulage of fire bricks and aggregates.
Below: Volvo's leadership over 16 tonnes was helped by Telfordbased A. J. Maiden and Son's decision to replace its entire fleet of vehicles with 15 F10 tractive units for agricultural haulage.