be empire sbikes back
6th July 1985
Page 17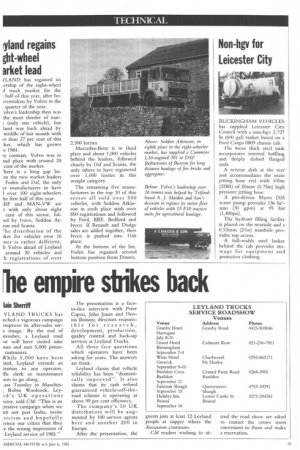 Page 17, 6th July 1985 —
be empire sbikes back
Close
lam Sherriff
YLAND TRUCKS has nched a vigorous campaign improve its after-sales sere image. By the end of itember, a Leyland road iw will have visited nine VLICS and met 5,000 potencustomers.
While 5,000 have been ited, Leyland extends an itation to any operator, Efic clerk or maintenance son to go along.
..ast Tuesday in Manches, Robin Woolcock, Leyid's UK operations .ctor, told CM: "This is an ;ressive campaign when we nit our past faults, invite ticism and hopefully wince our critics that they 7e the wrong impression of Leyland service of 1985."
The presentation is a faceto-face interview with Peter Capon, John Jones and Dennis Benson; directors responsible for research, development, production, quality control and back-up services at Leyland Trucks.
All three face questions which operators have been _asking for years. The answers are frank.
Leyland claims that vehicle reliability has been "dramatically improved'. It also claims that its cash refund guaranteed vehicle-off-theroad scheme is operating at above 99 per cent efficiency.
The company's 50 UK distributors will be augmented by 100 service agents 1here and another 200 in Europe.
After the presentation, the