Municipal Ummog on the way
6th July 1985
Page 16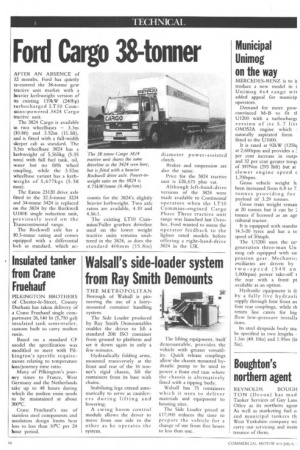 Page 16, 6th July 1985 —
Municipal Ummog on the way
Close
MERCEDES-BENZ is to ii troduce a new model in i Unimog 4x4 range wit added appeal for municip operators.
Demand for more pow, convinced M-B to fit ti U1200 with a turbocharge version of its 5.7 lit/ 0M352A engine which : naturally aspirated form fitted to the U1000.
It is rated at 92kW (125h1 at 2,600rpm and provides a per cent increase in outpi and 32 per cent greater torqt of 397Nm (293 lbft) but at slower engine speed c 1,70Orpm.
Gross vehicle weight h; been increased from 6.8 to 7. tonnes providing for payload of 3.29 tonnes.
Gross train weight remait at 20 tonnes but it can be tonnes if licensed as an agr cultural tractor.
It is equipped with .standat 14.5-20 tyrcs and has a to speed of 50inph.
The U1200 uses the ne, generation three-man Un: mog cab equipped with su; pension gear. Mechanic: anciliaries are driven by two-speed (540 an 1,000rpm) power take-off t the rear with a front pt available as an option.
Hydraulic equipment is fc by a fully live hydrauli supply through four front an four rear couplings, while th return line caters for hig flow low-pressure installa tions.
Its steel dropside body ma be specified in two lengths 1.5m (411 10in) and 1.95m (61 5in).