Ford Cargo 38-tonner
6th July 1985
Page 16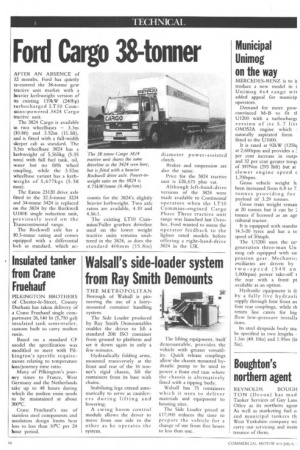 Page 16, 6th July 1985 —
Ford Cargo 38-tonner
Close
AFTER AN ABSENCE of 12 months, Ford has quietly re-entered the 38-tonne gcw tractive unit market with a heavier kerbweight version of its existing 119kW (240bp) turbocharged LT10 Cummins-powered 3424 Cargo tractive unit.
The 3824 Cargo is available in two wheelbases — 3.3m (10.8ft) and 3.52m (11.5ft), and is fitted with a full-width sleeper cab as standard. The 3.5m wheelbase 3824 has a kerbweight of 5,565kg (5.55 tons) with full fuel tank, oil, water but no fifth wheel coupling, while the 3.52m wheelbase variant has a kerbweight of 5,677kgs (5.58 tons).
The Eaton 23120 drive axle fitted to the 32.5-tonne 3224 and 34-tonne 3424 is replaced on the 3824 by the Rockwell U180E single reduction unit, previously used on the Transcontinental range.
The Rockwell axle has a 10.5-tonne rating and comes equipped with a differential lock as standard, which ac counts for the 3824's slightly heavier kerbweight. Two axle ratios are available, 4.10 and 4.56:1.
The existing LT10 Cummins/Fuller gearbox driveline used on the lower weight tractive units remains unaltered in the 3824, as does the standard 406mm (15.8in) diameter power-assisted clutch.
Brakes and suspension are also the same.
Price for the 3824 tractive unit is 126,675 plus vat.
Although left-hand-drive versions of the 3824 were made available to Continental operators when the LT10 Cummins-engined Cargo Phase Three tractive unit range was launched last October, Ford wanted to assess the operator feedback to the lighter rated models before offering a right-hand-drive 3824 in the UK.