Haulier erred to compete
6th July 1985
Page 15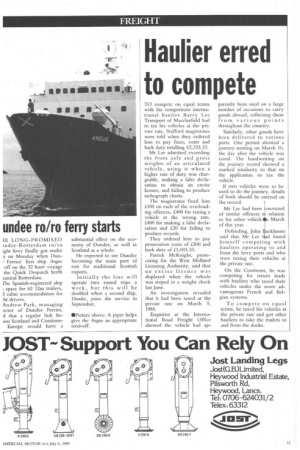 Page 15, 6th July 1985 —
Haulier erred to compete
Close
TO compete on equal terms with his competitors international haulier Barry Lee Transport of Macclesfield had to tax his vehicles at the private rate, Stafford magistrates were told when they ordered him to pay fines, costs and back duty totalling £2,233.33.
Mr Lee admitted exceeding the front axle and gross weights of an articulated vehicle, using it when a higher rate of duty was chargeable, making a false declaration to obtain an excise licence, and failing to produce tachograph charts.
The magistrates fined him £100 on each of the overloading offences, £400 for taxing a vehicle at the wrong rate, £400 for making a false declaration and £20 for failing to produce records.
They ordered him to pay prosecution costs of £200 and back duty of £1,003.33.
Patrick McKnight, prosecuting for the West Midland Licensing Authority, said that no excise licence was displayed when the vehicle was stoped in a weight check last June.
An investigation revealed that it had been taxed at the private rate on March 9, 1984.
Enquiries at the International Road Freight Office .showed the vehicle had ap parently been used on a large number of occasions to carry goods abroad, collecting them from various points throughout the country.
SiMilarly, other goods have been delivered to various ports. One permit showed a journey starting on March 10, the day after the vehicle was taxed. The handwriting cm the journey record showed a marked similarity to that on the application to tax the vehicle.
If two vehicles were to be used to do the journey, details of both should be entered on the record.
Mr Lee had been -.xinvicted of similar offences in relation to his other vehicle. March of this year.
Defending, John Backhouse said that Mr Lee had found himself competing with hauliers operating to and from the ferry ports and who were taxing their vehicles at the private rate.
On the Continent, he was competing for return loads with hauliers who taxed their vehicles under the more advantageous French and Belgian systems.
To compete on equal terms, he taxed his vehicles at the private rate and got other hauliers to take the trailers to and from the docks.