Bad brakes could keep lonies ashore
6th July 1985
Page 14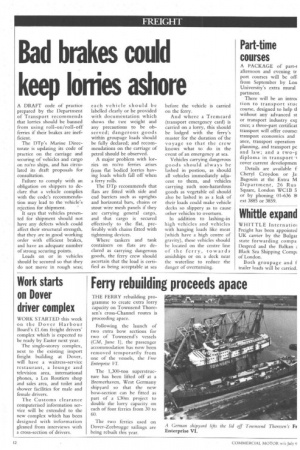 Page 14, 6th July 1985 —
Bad brakes could keep lonies ashore
Close
A DRAFT code of practice prepared by the Department of Transport recommends that lorries should be banned from using roll-on/roll-off ferries if their brakes are inefficient.
The DTp's Marine Directorate is updating its code of practice on the carriage and securing of vehicles and cargo on ro/ro ships, and has circulated its draft proposals for consultation.
Failure to comply with an obligation on shippers to declare that a vehicle complies with the code's recommendation may lead to the vehicle's rejection for shipment.
It says that vehicles presented for shipment should not have any defects which could affect their structural strength, that they are in-good working order with efficient brakes, and have an adequate number of strong securing points.
Loads on or in vehicles should be secured so that they do not move in rough seas; each vehicle should be labelled clearly or be provided with documentation which shows the tire weight and any precautions to be observed; dangerous goods within groupage loads should be fully declared; and recommendations on the carriage of petrol should be observed.
A major problem with lorries on ro/ro ferries arises from flat bodied lorries having loads which fall off when a ferry rolls.
The DTp recommends that flats are fitted with side and end barriers such as uprights and horizontal bars, chains or stout wire mesh panels if they are carrying general cargo, and that cargo is secured effectively to the fiat, preferably with chains fitted with tightening devices.
Where tankers and tank containers on flats are declared as carrying dangerous goods, the ferry crew should ascertain that the load is certified as being acceptable at sea before the vehicle is carried on the ferry.
And where a Tremcard (transport emergency card) is carried on a lorry, this should be lodged with the ferry's master for the duration of the voyage so that the crew knows what to do in the event of an emergency at sea.
Vehicles carrying dangerous goods should always be lashed in postion, as should all vehicles immediately adjacent to them, and vehicles carrying such non-hazardous goods as vegetable oil should also be lashed in as a leak of their loads could make vehicle decks so slippery as to cause other vehicles to overturn.
In addition to lashing-in high vehicles and vehicles with hanging loads like meat (which have a high centre of gravity), these vehicles should be located on the centre line of the ferry, towards amidships or on a deck near the waterline to reduce the danger of overturning.