Dartford terminal 'ready next year'
6th July 1985
Page 13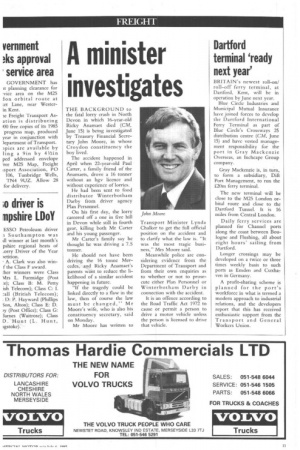 Page 13, 6th July 1985 —
Dartford terminal 'ready next year'
Close
BRITAIN's newest roll-on/ roll-off ferry terminal, at Dartford, Kent, will be in operation by June next year.
Blue Circle Industries and Municipal Mutual Insurance have joined forces to develop the Dartford International Ferry Terminal as part of Blue Circle's Crossways 25 distribution centre (CM, June 15) and have vested management responsibility for the port in Gray Mackenzie Overseas, an Inchcape Group company.
Gray Mackenzie is, in turn, to form a subsidiary, Dift Port Management, to run the £20m ferry terminal.
The new terminal will be close to the M25 London orbital route and close to the Dartford Tunnel. It is 16 miles from Central London. Daily ferry services are planned for Channel ports along the coast between Boulogne and Flushing, all about eight hours' sailing from Dartford.
Longer crossings may be developed on a twice or three times weekly basis to such ports as Emden and Cuxhaven in Germany.
A profit-sharing scheme is planned for the port's workforce in what is termed a modern approach to industrial relations, and the developers report that this has received enthusiastic support from the Transport and General Workers Union.