A minister investigates
6th July 1985
Page 13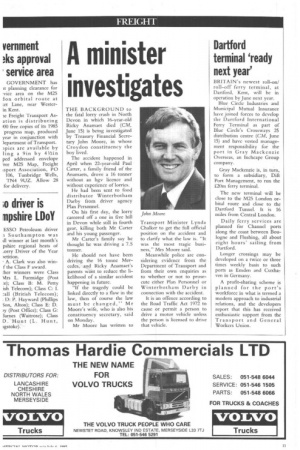 Page 13, 6th July 1985 —
A minister investigates
Close
THE BACKGROUND to the fatal lorry crash in North Devon in which 16-year-old Ricky Anamaet died (CM, June 15) is being investigated by Treasury Financial Secre tary John Moore, in whose Croydon constituency the boy lived.
The accident happened in April when 22-year-old Paul Carter, a family friend of the Anamaets, drove a 16 tonner without an hgv licence and without experience of lorries.
He had been sent to food distributor Winterbotham Darby from driver agency Plan Personnel.
On his first day, the lorry careered off a one in five hill in Devon while still in fourth gear, killing both Mr Carter and his young passenger.
Mr Carter's family say he thought he was driving a 7.5 harmer.
He should not have been driving the 16 tonne Mer cedesand Ricky Anamaet's parents want to reduce the likelihood of a similar accident happening in future.
"If the tragedy could be linked directly to a flaw in the law, then of course the law must be changed," Mr Moore's wife, who is also his constituency secretary, said on Monday.
Mr Moore has written to Transport Minister Lynda Chalker to get the full official position on the accident and to clarify what the law is. "It was the most tragic business," Mrs Moore said.
Meanwhile police are considering evidence from the Department of Transport and from their own enquiries as to whether or not to prosecute either Plan Personnel or Winterbotham Darby in connection with the accident.
It is an offence according to the Road Traffic Act 1972 to cause or permit a person to drive a motor vehicle unless the person is licensed to drive that vehicle.