How to Buy a Vehicle B UYING a vehicle can be
6th July 1951
Page 43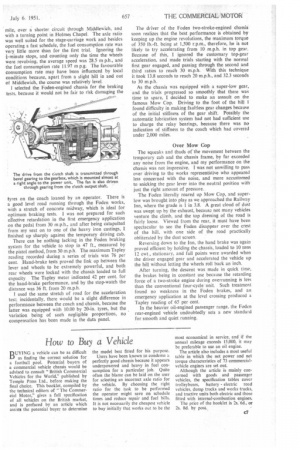 Page 43, 6th July 1951 —
How to Buy a Vehicle B UYING a vehicle can be
Close
as difficult as finding the correct solution for a football pool. Potential buyers of a commercial vehicle chassis would be advised to consult "British Commercial Vehicles for the World," published by Temple Press Ltd.. before making the final choice. This booklet, compiled by the technical editors of "The Commercial Motor," gives a full specification of all vehicles on the British market, and is prefaced by an article which assists the potential buyer to determine
the model best fitted for his purpose.
Users have been known to condemn a perfectly good chassis because it appears underpowered and heavy in fuel consumption for a particular job. Quite often the blame can be laid on the user for selecting an incorrect axle ratio for the vehicle. By choosing the right ratio for the task to be performed the operator might save on schedule times and reduce repair and fuel bills. It is not necessarily the cheapest vehicle to buy initially that works out to be the most economical in service, and if the annual mileage exceeds 15,000, it may be preferable to use an oil engine.
The article also includes a most useful table in which the net power and net torque characteristics of 73 commercialvehicle engines are set out.
Although the article is mainly concerned with goods and passenger vehicles, the specification tables cover trolleybuses, battery electric road vehicles, dump trucks and works trucks, and tractive units both electric and those fitted with internal-combustion engines.
The price of the booklet is 2s. 6d., or 2s. 8d. by post.