W ITH an annual production exceeding a million cycles, Raleigh Industries,
6th July 1951
Page 33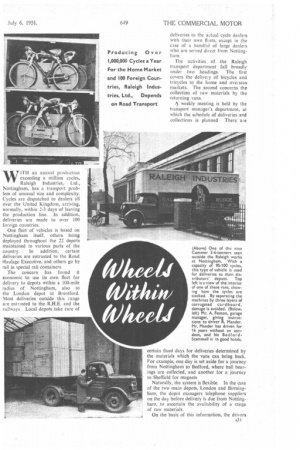 Page 34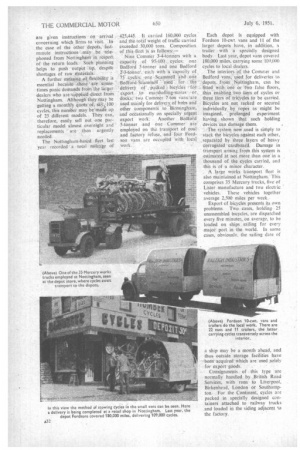 Page 33, 6th July 1951 —
W ITH an annual production exceeding a million cycles, Raleigh Industries,
Close
Ltd., Nottingham, has a transport problem of unusual size and complexity. Cycles are dispatched to dealers all over the United Kingdom, arriving, normally, within 2-3 days of leaving the production line. In addition, deliveries are made to over 140
foreign countries. .
One fleet of vehicles is based on Nottingham itself, others being deployed throughout the 22 depots maintained in various parts of the country. in addition, certain deliveries are entrusted to the Road Haulage Executive, and others go by rail in special rail containers.
The concern has found it economic to use its own fleet for delivery to depots within a 100-mile radius of Nottingham, also to the London depot at Brentford. Most deliveries outside this range are entrusted to the R.H.E. and the railways Local depots take care of deliveries to the actual cycle dealers with their own flets, except in the case of a handful of large dealers who are served direct from Nottingham.
The activities of the Raleigh transport department fall broadly under two headings. The first covers the delivery of bicycles and tricycles to the home and overseas markets. The second concerns the collection of raw materials by the returning vans.
A weekly meeting is held by the transport manager's department, at which the schedule of deliveries and collections is planned There are certain fixed days for deliveries determined by the materials which the vans can bring back. For example, one day is set aside for a journey front Nottingham to Bedford, where ball bearings are collected, and another for a journey to Sheffield for magnets Naturally, the system is flexible. In the case of the two main depots, London and Birmingham, the depot managers telephone suppliers on the day before delivery is due from Nottingham, to ascertain the availability of a range of raw materials.
On the basis of this information, the drivers
are given instructions on arrival concerning which firms to visit. In the case of the Other depots, fastminute instructions may be telephoned from Nottingham-in respect of the return loads. Such planning helps to push output . up, despitt: shortages of raw materials: A further measure of flexibility is essential because -the-re' are soinotimes panic derma& from the larger dealers who are-supplied.direct from Nottingham. Although tkcy.may be getting a monthly quota of, sii,,100 cycles, this number may be made up of 25 different models. They can, therefore, easily sell out one particular model almost overnight and replacements are then urgently needed.
The Nottingham-based fleet last year recorded a total mileage of
425,445. It carried 160,000 cycles and the total weight of traffic carried exceeded 30,000 tons. Composition of this fleet is as follows:— Nine .Commer 3-4-tonners with a capaCity of 95-100 cycles; on,:.• Bedford 5-tonner and one Bedford 2'=3-tonner. e.ithwith a capacity of 75 cycles; one -Scarnmell and one Bedfor&SCamitaill 'used for the
delivery paCked : hieYcles ftie export ,to matshalling-storzs or. docks; two Commer 7-ton vans are used mainly for delivery, of hubs and other components to Birmingham, and occasionally on specially urgent export work: Another Bedford 5-tonner and one Commer are' employed on the transport of coal and factory refuse, and four Fordson vans are occupied with local work. Each depot is equipped with Fordson 10-cwt. vans and 11 of the larger depots have, in addition, a trailer with a specially designed body. Last year, depot vans covered 180,000 miles, carrying some 109,000 cycles to local dealers.
The interiors of the Commer and Bedford vans, used, for deliveries to :depots..from . Nottingham, can be fitted with one en two false floors, thus enabling two tiers of cycles or three tiers of tricycles to be carried. Bicycles are not racked or secured individually. by ropes as might be imagined, prolonged experiment having . shown that such holding devices can damage them.
The system now used is simply to stack the bicycles against each other, separated by three layers of heavy corrugated cardboard. Damage in transport arisinj froM this system is estimated at not More than one in a thousand of the cycles carried, and this is of a minor character.
A large works transport fleet is also maintained at Nottingham.' This comprises 35 Mercury trucks, five of Lister manufacture and two electric vehicles. These vehicles together average 2,500 miles per week.
Export of bicycles presents its own problems Two cases, holding 25 unassembled bicycles, are dispatched every five minutes, on average, to be loaded on ships sailing for every major port in the world. In some cases, obviously, the sailing date of a ship may be a month ahead, and thus. outside storage facilities have been acquired which are used solely for export goods. .
Consignments of . this type are normally handled by .British Road Services, with runs to Liverpool, Birkenhead, London or Southampton. For the Continent, cycles are packed in specially designed containers attached to railway trucks and loaded in the siding adjacent to the factory.