Tips and Parking : P.V.O.A.'s Concern
6th July 1951
Page 31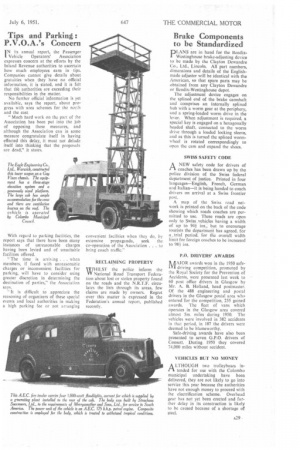 Page 31, 6th July 1951 —
Tips and Parking : P.V.O.A.'s Concern
Close
1N its annual report, the Passenger Vehicle Operators' Association expresses concern at the efforts by the Inland Revenue authorities to ascertain how much employees earn in tips. Companies cannot give details about gratuities when they have no official information, it is stated, and it is felt that thb authorities are exceeding their responsibilities in the matter. No further official information is yet available, says the report, about progress with area schemes for the north and the east " Much hard work on the part of the Association has been put into the job of opposing these measures, and although the Association can in some measure congratulate itself in having effected this delay, it must not delude itself into thinking that the proposals are dead," it states.
With regard to parking facilities, the report says that there have been many instances of unreasonable charges having been levied and of unsuitable facilities offered.
"The time is arriving . . . when members, if faced with unreasonable charges or inconvenient facilities for parking, will have to consider using greater discretion in determining the destination of parties," the Association says.
It is difficult to .appreciate the reasoning of organizers of these special events and local authorities in making a high parking fee or not arranging convenient facilities when they do, by extensive propaganda, seek the co-operation of the Association . . . to bring coach traffic."
RECLAIMING PROPERTY
W/HILST the police inform the VV National Road Transport Federation about lost or stolen property found on the roads and the N.R.T.F. circulates the lists through its areas, few claims are made by owners. Regret over this matter is expressed in the Federation's annual report, published recently.