KEEPING FESTIVAL BATTERIES CHARGED
6th July 1951
Page 30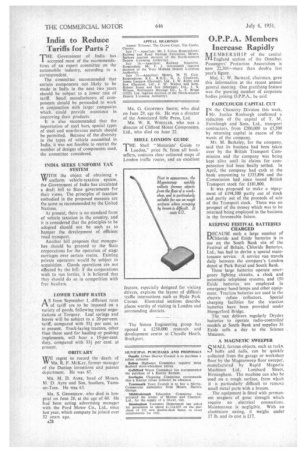 Page 30, 6th July 1951 —
KEEPING FESTIVAL BATTERIES CHARGED
Close
BECAUSE such a large number of ',Chloride and Exide batteries is in use on the South Bank site of the Festival of Britain, Chloride Batteries, Ltd., has had to devise a special maintenance service. A service van travels daily between the company's London depot at Park Royal and South Batik.
Three large batteries operate emergency lighting circuits, a clock and automatic telephone systems, and 150 Exide batteries are employed in emergency hand lamps and other equipment. Traction batteries are used in the electric refuse collectors. Special charging facilities for the traction batteries have been provided under Hungerford Bridge.
The van delivers regularly Drydex batteries to operate radio-controlled models at South Bank and supplies 36 Exide cells a day to the Science Museum.
A MAGNETIC SWEEPER
SMALL ferrous objects, such as tacks. bolts and nails, can be quickly collected from the garage or workshop floor by the Magnasweep floor sweeper, manufactured by Rapid Magnetic Machines Ltd., Lombard Street, Birmingham. The machine can also be used on a rough surface, from which it is particularly difficult to remove small metal parts with a broom.
The equipment is fitted with permanent magnets of great strength which require no electrical connections. Maintenance is negligible. With an aluminium casing, it weighs under 17 lb. and its cost is £17.