Mr. Birch on Penal Taxation
6th July 1951
Page 29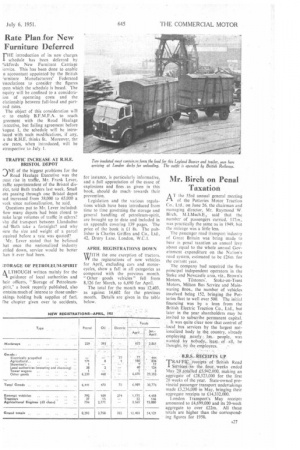 Page 29, 6th July 1951 —
Mr. Birch on Penal Taxation
Close
AT the 53rd annual general meeting of the Potteries Motor Traction Co.. Ltd., on June 26, the chairman and managing director, Mr. Raymond W. Birch, M.1.Mech.E.,, said that the number of passengers carried,' 117m., was practically the same as in 1949, bin the Mileage was a little loss.
The passenger road transport industry of Great Britain was being made to hear in penal taxation an annual levy about equal to the whole annual Government expenditure on the Nation's road system, estimated to be £26m. for the current year.
The company had acquired the five principal independent operators in the Stoke and Newcastle area, viz., Brown's Motors, Tilstones', Stoke-on-Trent Motors, Milton Bus Service and MainWaring Bros., the number of vehicles involved being 152, bringing the Potteries fleet to well over 500. The initial financing was by a loan from the British Electric Traction Co" Ltd., but later in the year shareholders may he .invited to subscribe permanent capital. • It was quite clear now that control of local bus services by the largest nationalized body in the country, already employing nearly lm.• people,: was vianted • by nobOdy, least,: of all; he thought, :b' tlie'eMployees.