Field Day at M.I.R.A.
6th July 1951
Page 27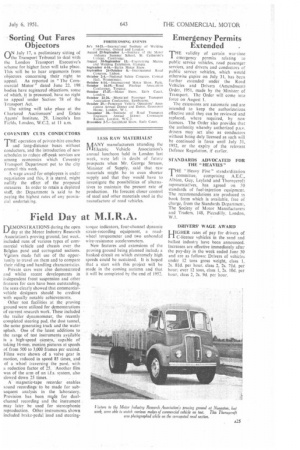 Page 27, 6th July 1951 —
Field Day at M.I.R.A.
Close
DEMONSTRATIONS during the open day at the Motor Industry Research Association's proving ground, last week. included runs of various types of commercial vehicle and chassis over the Belgian pave and corrugated sections. Visitors made full use of the opportunity to travel on them and to compare their riding and handling characteristics.
Private cars were also demonstrated and whilst recent developments in independent front suspension and other features for cars have been outstanding, the tests clearly showed that commercialvehicle designers should be credited with equally notable achievements.
Other test facilities at the proving ground were utilized for demonstrations of current research work. These included the trailer dynamometer, the recently completed steering pad, the dust tunnel, the noise generating track and the water splash. One of the latest additions to the range of test instruments available is a high-speed camera,. capable of taking 16-mm. motion pictures at speeds of from 500 to 3,000 frames per secOnd. Films were shown of a valve gear in motion, reduced in speed 85 times, and of a wheel traversing the pave, with a reduction factor of 25. Another film was of the arm of an i.f.s. system, also slowed down 25 times.
A magnetic-tape recorder enables sound recordings to be made for subsequent analysis in the laboratory. Provision has been mIde for dualchannel recording and the instrument may later be used for stereophonic reproduction. Other instruments shown included brake-pedal load and steering o rq ue indicators, four-channel dynamic strain-recording equipment, a roadwheel torquemeter and two unbonded wire-resistance accelerometers.
NeW features and extensions of the proving ground being planned include a banked circuit on which extremely high speeds could be sustained. It is hoped that a start with this project will be made in the coming autumn and that it will be completed by the end of 1952.