One Hears
6th July 1951
Page 25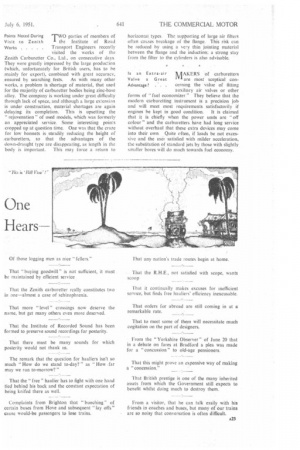 Page 25, 6th July 1951 —
One Hears
Close
Of those logging men as nice fellers."
That " buying goodwill" is not sufficient, it must be maintained by efficient service That the Zenith carburetter really constitutes two in one—almost a case of schizophrenia.
That more "level" crossings now deserve the name, but get many others even more deserved.
That the Institute of Recorded Sound has been formed to preserve sound recordings for posterity.
That there must be many sounds for which posterity would not thank us.
The remark that the question for hauliers isn't so much "How do we stand to-day?" as " How .far may we run to-morrow?"
That the " free" haulier has to fight with one hand tied behind his back and the constant expectation of being knifed there as well.
Complaints from Brighton that "bunching" of certain buses from Hove and subsequent "lay offs" cause would-be passengers to lose trains. That any nation's trade routes begin at home.
That the R.H.E., not satisfied with scope, wants scoop
.[hat it continually makes excuses for inefficient service; but finds free hauliers' efficiency inexcusable.
That orders for abroad are still coming in at a remarkable rate.
That to meet some of them will necessitate much cogitation on the part of designers.
From the "Yorkshire Observer" of June 20 that in a debate on fares at Bradford a plea was made for a "concussion" to old-age pensioners.
That this might prove an expensive way of making a "concession."
That British prestige is one of the many inherited assets from which the Government still expects to benefit whilst doing much to destroy them.
From a visitor, that he can talk easily with his friends in coaches and buses, but many of our trains are so noisy that conversation is often difficult.