Will Tramways Revive?
6th July 1951
Page 24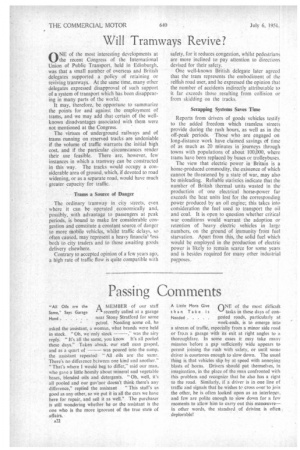 Page 24, 6th July 1951 —
Will Tramways Revive?
Close
ONE of the most interesting developments at the recent Congress of the International Union of Public Transport, held in Edinburgh, was that a small number of overseas and British delegates supported a policy of retaining Or reviving tramways. At the same time, many other delegates expressed disapproval of such support of a system of transport which has been disappearing in many parts of the world. It may, therefore, be opportune to summarize the points for and against the employment of trams, and we may add that certain of the wellknown disadvantages associated with them were not mentioned at the Congress.
The virtues of underground railways and of trams running on reserved tracks are undeniable if the volume of traffic warrants the initial high cost, and if the particular circumstances render their use feasible. There are, however, few instances in which a tramway can be constructed in this way. The tracks would occupy a considerable area of ground, which, if devoted to road widening, or as a separate road, would have much greater capacity for traffic.
Trams a Source of Danger The ordinary tramway in city streets, even where it can be operated economically and, possibly, with advantage to passengers at peak periods, is bound to make for considerable congestion and constitute a constant source of danger to more mobile vehicles, whilst traffic delays, so often caused, may represent a heavy financial !oss both to city traders and to those awaiting goods delivery elsewhere. Contrary to accepted opinion of a few years ago, a high rate of traffic flow is quite compatible with safety, for it reduces congestion, whilst pedestrians are more inclined to pay attention to directions devised for their safety.
One well-known British delegate later agreed that the tram represents the embodiment of the Eelfish road user, and he expressed the opinion that the number of accidents indirectly attributable to it far exceeds those resulting from collision or from skidding on the tracks.
Scrapping Systems Saves Time Reports from drivers of goods vehicles testify to the added freedom which taintless streets provide during the rush hours, as well as in the off-peak periods. Those who are engaged on long-distance work have claimed savings of time of as much as 20 minutes in journeys through towns with populations of about 100,000, where trams have been replaced by buses or trolleybuses.
The view that electric power in • Britain is a home-produced commodity, the existence of which cannot be thseatened by a state of war, may also be misleading. Reliable statistics indicate that the number of British thermal units wasted in the production of one electrical horse-power far exceeds the heat units lost for the corresponding power produced by an oil engine; this takes into consideration the fuel used to transport the oil and coal. It is open to question whether critical war conditions would warrant the adoption or retention of heavy electric vehicles in large numbers, on the ground of immunity from fuel starvation. Apart from this, the solid fuel which would be employed in the production of electric power is likely to remain scarce for some years and is besides required for many other industrial pur poses.