Passing Comments
6th July 1951
Page 24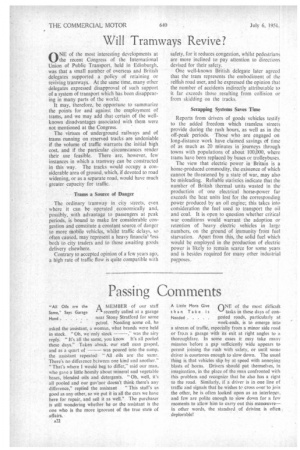 Page 25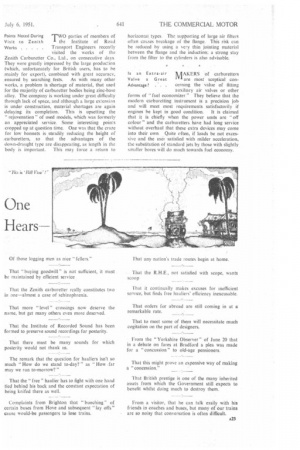 Page 24, 6th July 1951 —
Passing Comments
Close
"All Oils are the A MEMBER • of our staff Same," Says Garage rm recently called at a garage
Hand near Stony Stratford for some petrol. Needing some oil, he asked the assistant, a woman, what brands were held
in stock. "Oh, we only stock was the airy reply. " It's all the same, you know It's all pooled these days." Taken aback. our stall man gasped, and as a quart of — was poured into the sump, the assistant repealed 7 "All oils are the same. There's no diffeience between one kind and another." "That's where I would beg to differ," said our man, who gave a little homily about mineral and vegetable bases, blended oils and detergents. "Oh, well, it's all pooled and our grninor doesn't think there's any
difference," replied the assistant "This stuff's as good as any other, so we put it in all the cars we have here for repair, and sell it as well." The purchaser is still wondering whether he or the assistant is the one who is the more ignorant of the true state of affairs.
a22
A Little More Give nNE of the most difficult than Take is tasks in these days of con Needed gested roads, particularly at week-ends, is to emerge into a stream of traffic, especially from a minor side road or frost a garage with its exit at right angles to a thoroughfare. In some cases it may take many minutes before a gap sufficiently wide appears to permit joining the rush with safety, Or until SCIT110 driver is courteous enough to slow down. The usual thing is that vehicles slip by at speed with annoying blasts of horns. Drivers should put themselves, in imagination, in the place of the man confronted with this problem and recognize that he also has a right to the road. Similarly, if a driver is in one line of traffic and signals that he wishes to cross over-to join the other, he is often looked upon as an interloper, and few are polite enough to slow down for a few moments to allow him to carry out this manceuvrein other words, the standard . of driving is often deplorable! Points Noted During TWO parties of members of Visit to Zenith 1 the Institute of Road Works Transport Engineers recently visited the works of the Zenith Carburetter Co., Ltd.. on consecutive days They were greatly impressed by the large production (which, unfortunately for British users, has to be .mainly for export), combined with great accuracy,
ensured by searching tests. As with many other works, a problem is shortage of material, that used for the majority of carburetter bodies being zinc-base alloy. The company is working under great difficulty through lack of space, and although a large extension is under construction, material shortages are again delaying its completion. This is upsetting the " rejuvenation" of used models, which was formerly an appreciated service. Some interesting points cropped up at question time. One was that the craze for low bonnets is steadily reducing the height of .carburetters, so that the advantages of the down-draught type are disappearing, as length in the body is important. This may force a return to
horizontal. types. The supporting of large air filters often cat,ses breakage of the flange. This risk can be reduced by using a very thin jointing material between the flange and the induction; a strong stay from the filter to the cylinders is also advisable.
Is an Extra-air MAKERS 'of carburetters Valve a Great are most sceptical con Advantage ? . cerning the value of titling
auxiliary air valves or other forms of " fuel economizer" They believe that the modern carburetting instrument is a precision job and will meet most requirements satisfactorily if engines he kept in good condition. It is claimed that it is chiefly when the power units are "off colour" and the carburetters have had long service without overhaul that these extra devices may come into their own. Quite often, if loads be not excessive and the user satisfied with milder acceleration, the substitution of standard jets by those with slightly smaller bores will do much towards fuel economy.