Drivers not using secure parking
6th January 2011
Page 9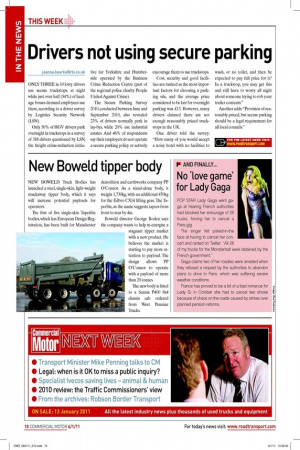 Page 9, 6th January 2011 —
Drivers not using secure parking
Close
joanna.bourke@rbi.co.uk ONLY THREE in 10 lorry drivers use secure truckstops, at night while just over half (54%) of haulage bosses demand employees use them, according to a driver survey by Logistics Security Network (LSN).
Only 30% of HGV drivers park overnight in truckstops in a survey of 318 drivers questioned by LSN, the freight crime-reduction initia tive for Yorkshire and Humberside operated by the Business Crime Reduction Centre (part of the regional police charity People United Against Crime).
The Secure Parking Survey 2010, conducted between June and September 2010, also revealed 23% of drivers normally park in lay-bys, while 20% use industrial estates. And 46% of respondents say their employers do not operate a secure parking policy or actively encourage them to use truckstops.
Cost, security and good facilities are ranked as the most important factors for choosing a parking site, and the average price considered to be fair for overnight parking was £13. However, many drivers claimed there are not enough reasonably priced truckstops in the UK.
One driver told the survey: "How many of you would accept a noisy hotel with no facilities to wash, or no toilet, and then be expected to pay full price for it? In a truckstop, you may get this and still have to worry all night about someone trying to rob your trailer contents." Another adds: "Provision of reasonably priced, but secure parking should be a legal requirement for all local councils."