B2C home delivery to fore as Cochrane takes up TNT reins
6th January 2011
Page 7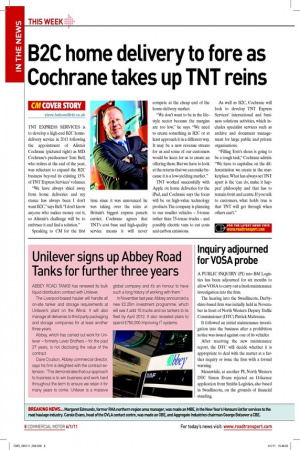 Page 7, 6th January 2011 —
B2C home delivery to fore as Cochrane takes up TNT reins
Close
TNT EXPRESS SERVICES is to develop a high-end B2C homedelivery service in 2011 following the appointment of Alistair Cochrane (pictured right) as MD. Cochrane's predecessor Tom Bell, who retires at the end of the year, was reluctant to expand the B2C business beyond its existing 15% of TNT Express Services' volumes.
"We have always shied away from home deliveries and my stance has always been I don't want B2C," says Bell. "I don't know anyone who makes money out it, so Alistair's challenge will be to embrace it and ind a solution." Speaking to CM for the irst time since it was announced he was taking over the reins at Britain's biggest express parcels carrier, Cochrane agrees that TNT's cost base and high-quality service means it will never compete at the cheap end of the home-delivery market.
"We don't want to be in the lifestyle sector because the margins are too low," he says. "We need to create something in B2C or at least approach it in a different way. It may be a new revenue stream for us and some of our customers would be keen for us to create an offering there. But we have to look at the returns that we can make because it is a low-yielding market." TNT worked successfully with Apple on home deliveries for the iPad, and Cochrane says the focus will be on high-value technology products. The company is planning to run smaller vehicles – 5-tonne rather than 7.5-tonne trucks – and possibly electric vans to cut costs and carbon emissions. As well as B2C, Cochrane will look to develop TNT Express Services' international and business solutions activities, which includes specialist services such as archive and document management for large public and private organisations.
"Filling Tom's shoes is going to be a tough task," Cochrane admits. "We have to capitalise on the differentiation we create in the marketplace. What has always set TNT apart is the 'can do, make it happen' philosophy and that has to remain front and centre. If you talk to customers, what holds true is that TNT will get through when others can't."
FOR THE LATEST NEWS VISIT:
WWW.roaftraMPort.Com