Bleak end to 2010 as seven operators enter liquidation
6th January 2011
Page 6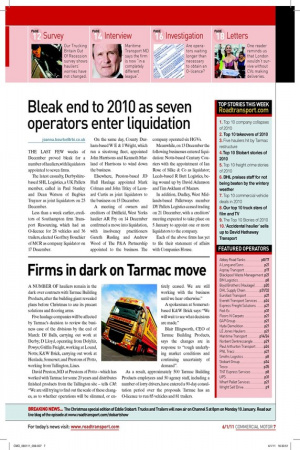 Page 6, 6th January 2011 —
Bleak end to 2010 as seven operators enter liquidation
Close
joanna.bourke@rbi.co.uk THE LAST FEW weeks of December proved bleak for a number of hauliers, with liquidators appointed to seven irms.
The latest casualty, Derbyshirebased SHL Logistics, a UK Pallets member, called in Paul Stanley and Dean Watson of Begbies Traynor as joint liquidators on 23 December.
Less than a week earlier, creditors of Southampton irm Transport Resourcing, which had an O-licence for 28 vehicles and 36 trailers, elected Geoffrey Bouchier of MCR as company liquidator on 17 December. On the same day, County Durham-based W E & I Wright, which ran a six-strong leet, appointed John Harrisons and Kenneth Marland of Harrisons to wind down the business.
Elsewhere, Preston-based JD Hull Haulage appointed Mark Colman and John Titley of Leonard Curtis as joint liquidators to the business on 15 December.
A meeting of owners and creditors of Drifield, West Yorks haulier AR Fry on 14 December conirmed a move into liquidation, with insolvency practitioners Gareth Rusling and Andrew Wood of The P&A Partnership appointed to the business. The company operated six HGVs.
Meanwhile, on 13 December the following businesses entered liquidation: Notts-based Century Couriers with the appointment of Ian Rose of Silke & Co as liquidator; Leeds-based R Butt Logistics, being wound up by David Adamson and Tim Askham of Mazars.
In addition, Dudley, West Midlands-based Palletways member DY Pallets Logistics ceased trading on 21 December, with a creditors' meeting expected to take place on 5 January to appoint one or more liquidators to the company.
Each of the above irms has yet to ile their statement of affairs with Companies House.
Tags
People
:
Geoffrey Bouchier
,
Ian Rose
,
Paul Stanley
,
Dean Watson
,
Mark Colman
,
Andrew Wood
,
Tim Askham
,
David Adamson
,
John Harrisons
,
John Titley
,
Kenneth Marland
,
Leonard Curtis
,
Gareth Rusling