Double diesel whammy hits operators
6th January 2011
Page 5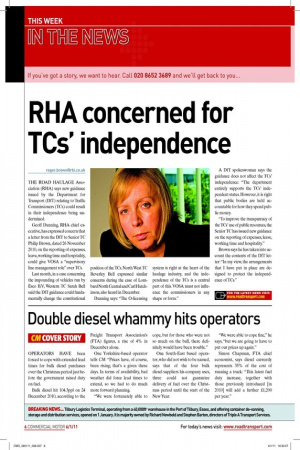 Page 5, 6th January 2011 —
Double diesel whammy hits operators
Close
OPERATORS HAVE been forced to cope with extended lead times for bulk diesel purchases over the Christmas period just before the government raised duty on fuel.
Bulk diesel hit 104.3ppl on 24 December 2010, according to the Freight Transport Association's (FTA) igures, a rise of 4% in December alone.
One Yorkshire-based operator tells CM: "Prices have, of course, been rising; that's a given these days. In terms of availability, bad weather did force lead times to extend, so we had to do much more forward planning.
"We were fortunately able to cope, but for those who were not so much on the ball, there deinitely would have been trouble." One South-East based operator, who did not wish to be named, says that of the four bulk diesel suppliers his company uses, three could not guarantee delivery of fuel over the Christmas period until the start of the New Year. "We were able to cope ine," he says, "but we are going to have to put our prices up again." Simon Chapman, FTA chief economist, says diesel currently represents 35% of the cost of running a truck: "This latest fuel duty increase, together with those previously introduced [in 2010] will add a further £1,200 per year."