ze does atter
6th January 2011
Page 23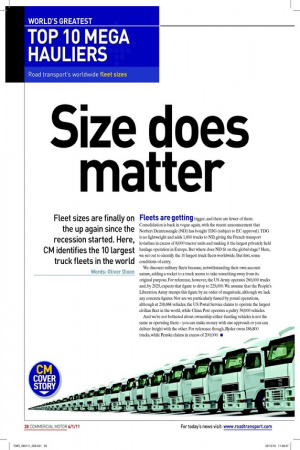 Page 24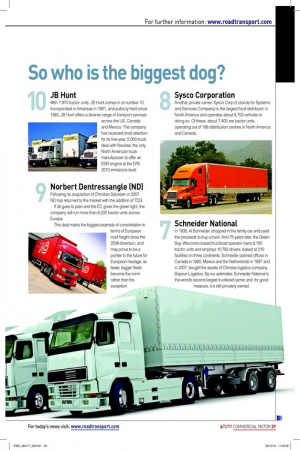 Page 25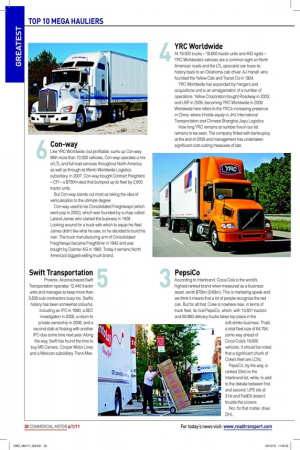 Page 26
Page 23, 6th January 2011 —
ze does atter
Close
Keywords :
Transport
,
Express Mail
,
Technology
,
Fedex
,
Schneider National
,
Dhl Express
,
J. B. Hunt
,
Norbert Dentressangle
,
Yrc Worldwide
,
Consolidated Freightways
,
Cargo
,
Tractor
Fleet sizes are finally on the up again since the recession started. Here, CM identifies the 10 largest truck fleets in the world
Words: Oliver Dixon
Fleets are getting bigger, and there are fewer of them. Consolidation is back in vogue again, with the recent announcement that Norbert Dentressangle (ND) has bought TDG (subject to EC approval). TDG is no lightweight and adds 1,600 trucks to ND, giving the French transport leviathan in excess of 8,000 tractor units and making it the largest privately held haulage operation in Europe. But where does ND it on the global stage? Here, we set out to identify the 10 largest truck leets worldwide. But irst, some conditions of entry.
We discount military leets because, notwithstanding their own account nature, adding a rocket to a truck seems to take something away from its original purpose. For reference, however, the US Army operates 260,000 trucks and, by 2025, expects that igure to drop to 225,000. We assume that the People's Liberation Army trumps this igure by an order of magnitude, although we lack any concrete igures. Nor are we particularly fussed by postal operations, although at 218,684 vehicles, the US Postal Service claims to operate the largest civilian leet in the world, while China Post operates a paltry 39,000 vehicles.
And we're not bothered about ownership either: funding vehicles is not the same as operating them – you can make money with one approach or you can deliver freight with the other. For reference though, Ryder owns 186,800 trucks, while Penske claims in excess of 200,000. ■
So who is the biggest dog?
10 JB Hunt
With 7,970 tractor units, JB Hunt comes in at number 10. Incorporated in Arkansas in 1961, and publicly-held since 1983, JB Hunt offers a diverse range of transport services across the US, Canada and Mexico. The company has received most attention for its five-year, 5,000-truck deal with Navistar, the only North American truck manufacturer to offer an EGR engine at the EPA 2010 emissions level.
Norbert Dentressangle (ND)
9 Following its acquisition of Christian Salvesen in 2007, ND has returned to the market with the addition of TDG. If all goes to plan and the EC gives the green light, the company will run more than 8,000 tractor units across Europe.
This deal marks the biggest example of consolidation in terms of European road freight since the 2008 downturn, and may prove to be a pointer to the future for European haulage, as fewer, bigger fleets become the norm rather than the exception.
8
Sysco Corporation
Another private carrier, Sysco Corp (it stands for Systems and Services Company) is the largest food distributor in North America and operates about 8,700 vehicles in doing so. Of these, about 7,400 are tractor units, operating out of 186 distribution centres in North America and Canada.
7 Schneider National 7 Schneider National
the proceeds to buy a truck. And 75 years later, the Green In 1935, Al Schneider chopped in the family car and used Bay, Wisconsin-based truckload operator owns 9,100 tractor units and employs 10,782 drivers, based at 210 facilities on three continents. Schneider opened offices in Canada in 1990, Mexico and the Netherlands in 1997 and, in 2007, bought the assets of Chinese logistics company Bayoun Logistics. By our estimates, Schneider National is the world's second largest truckload carrier and, for good measure, it is still privately owned.
6 Con-way 6 Con-way
Like YRC Worldwide, but profitable, sums up Con-way. With more than 12,000 vehicles, Con-way operates a mix of LTL and full-load services throughout North America, as well as through its Menlo Worldwide Logistics subsidiary. In 2007, Con-way bought Contract Freighters – CFI – a $750m-deal that bumped up its fleet by 2,600 tractor units.
But Con-way stands out most as taking the idea of verticalisation to the ultimate degree.
Con-way used to be Consolidated Freightways (which went pop in 2002), which was founded by a chap called Leland James who started the business in 1929. Looking around for a truck with which to equip his fleet, James didn't like what he saw, so he decided to build his own. The truck manufacturing arm of Consolidated Freightways became Freightliner in 1942 and was bought by Daimler AG in 1980. Today it remains North America's biggest-selling truck brand.
5
Swift Transportation
Phoenix, Arizona-based Swift Transportation operates 12,440 tractor units and manages to keep more than 3,500 sub-contractors busy too. Swift's history has been somewhat colourful, including an IPO in 1990, a SEC investigation in 2005, a return to private ownership in 2006, and a second stab at floating with another IPO due some time next year. Along the way, Swift has found the time to buy MS Carriers, Cooper Motor Lines and a Mexican subsidiary, Trans-Mex.
4 YRC Worldwide At 19,000 trucks – 18,600 tractor units and 400 rigids – YRC Worldwide's vehicles are a common sight on Nort
h American roads and the LTL specialist can trace its history back to an Oklahoma cab driver, AJ Harrell, who founded the Yellow Cab and Transit Co in 1924.
YRC Worldwide has expanded by mergers and acquisitions and is an amalgamation of a number of operations. Yellow Corporation bought Roadway in 2003, and USF in 2005, becoming YRC Worldwide in 2009. Worldwide here refers to the YRC's increasing presence in China, where it holds equity in JHJ International Transportation and Chinese Shanghai Jiayu Logistics.
How long YRC remains at number five in our list remains to be seen. The company flirted with bankruptcy at the end of 2009 and management has undertaken significant cost-cutting measures of late.
3 PepsiCo According to Interbrand, Coca-Cola is the world's highest-ranked brand when measured as a business
asset, worth $70bn (£45bn). This is marketing speak and we think it means that a lot of people recognise the red can. But for all that, Coke is nowhere near, in terms of truck fleet, its rival PepsiCo, which, with 13,801 tractors and 50,993 delivery trucks takes top place in the soft-drinks business. That's a total fleet size of 64,794, some way ahead of Coca-Cola's 16,600 vehicles. It should be noted that a significant chunk of Coke's fleet are LCVs.
PepsiCo, by the way, is ranked 23rd on the Interbrand list, while, to add to the debate between first and second, UPS sits at 31st and FedEX doesn't trouble the scorers.
Nor, for that matter, does DHL.
2 Deutsche Post DHL Five years ago, Deutsche Post DHL added Exel Logistics to its stable becoming, at a stroke, a seemingly ubiquitous presence on UK roads.
Globally, DHL claims to operate a fleet of 120,000 trucks, vans and trailers, and we estimate that its motive parc stands at about 65,000 vehicles. We say 'estimate' because a strange silence is the result of any attempt at dialogue with the German-owned operation whenever we ask for confirmation.
Of course, the answer may have been out for delivery three times, we may have missed the doorbell and so will need to head off to a distant depot where it is being held for collection. We don't know, but 65,000 sounds about right, although DHL's somewhat ignominious exit from the US market and the sale of its UK parcel-delivery division to HDNL may have dented these numbers. Of course, how many of these vehicles are used for domestic German postal deliveries is uncertain, but we'll place it number two and move on.
=1
UPS and FedEx
In terms of absolute fleet size, Atlanta-based UPS is number one. It operates 12,268 tractor units and 66,425 package cars, giving it a total fleet size of 78,693 vehicles. Plus, if we are to believe the advertising, a Gondola or two.
But, already, there are cries for a Steward's Enquiry. Memphisbased FedEx leads the way in terms of tractor units, with 22,800 company-owned trucks, along with 22,000 owner-operators working in FedEx livery. In addition, FedEx operates 38,900 rigids and package cars, giving it a total wholly owned fleet size of 61,700. If you add in owner-operators, this rises to 83,700.
It's nip and tuck and time for a casting vote. UPS operates the world's 13th largest airline, with 253 planes – one fewer than Ryanair. (Insert joke of choice here.) FedEx operates 664 planes, making it the world's fourth largest airline, with more aircraft than American Airlines. (Again, insert joke of choice.) But, in logistics and life, it all comes down to money. With revenues of $45bn in 2009, UPS ranks as the world's 86th largest economy – not company – with a GDP greater than El Salvador. FedEx comes in at 95th, edging Ghana into 96th place.