NEGOTIATING DEALS
6th January 2011
Page 21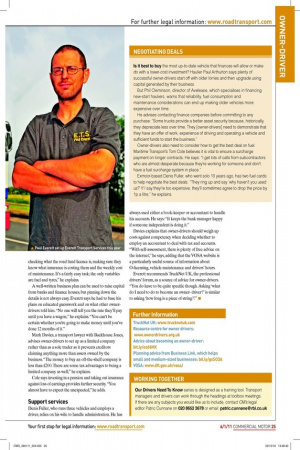 Page 21, 6th January 2011 —
NEGOTIATING DEALS
Close
Is it best to buy the most up-to-date vehicle that finances will allow or make do with a lower-cost investment? Haulier Paul Arthurton says plenty of successful owner-drivers start off with older lorries and then upgrade using capital generated by their business.
But Phil Cleminson, director of Avelease, which specialises in financing new-start hauliers, warns that reliability, fuel consumption and maintenance considerations can end up making older vehicles more expensive over time.
He advises contacting finance companies before committing to any purchase: "Some trucks provide a better asset security because, historically, they depreciate less over time. They [owner-drivers] need to demonstrate that they have an offer of work, experience of driving and operating a vehicle and sufficient funds to start the business." Owner-drivers also need to consider how to get the best deal on fuel. Maritime Transport's Tom Cole believes it is vital to ensure a surcharge payment on longer contracts. He says: "I get lots of calls from subcontractors who are almost desperate because they're working for someone and don't have a fuel surcharge system in place." Exmoor-based Denis Fuller, who went solo 10 years ago, has two fuel cards to help negotiate the best deals. "They ring up and say 'why haven't you used us?' If I say they're too expensive, they'll sometimes agree to drop the price by 1p a litre," he explains.