New year, old worries
6th January 2011
Page 2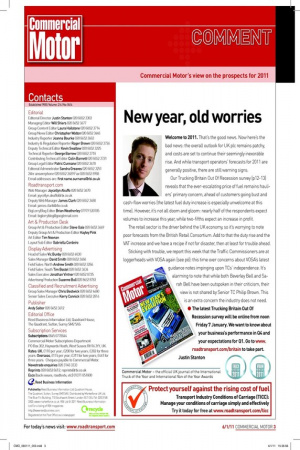 Page 2, 6th January 2011 —
New year, old worries
Close
Welcome to 2011. That's the good news. Now here's the bad news: the overall outlook for UK plc remains patchy, and costs are set to continue their seemingly inexorable rise. And while transport operators' forecasts for 2011 are generally positive, there are still warning signs.
Our Trucking Britain Out Of Recession survey (p12-13) reveals that the ever-escalating price of fuel remains hauliers' primary concern, ahead of customers going bust and cash-flow worries (the latest fuel duty increase is especially unwelcome at this time). However, it's not all doom and gloom: nearly half of the respondents expect volumes to increase this year, while two-fifths expect an increase in profit.
The retail sector is the driver behind the UK economy, so it's worrying to note poor forecasts from the British Retail Consortium. Add to that the duty rise and the VAT increase and we have a recipe if not for disaster, then at least for trouble ahead.
Sticking with trouble, we report this week that the Traffic Commissioners are at loggerheads with VOSA again (see p6): this time over concerns about VOSA's latest guidance notes impinging upon TCs' independence. It's alarming to note that while both Beverley Bell and Sarah Bell have been outspoken in their criticism, their view is not shared by Senior TC Philip Brown. This is an extra concern the industry does not need.
● The latest Trucking Britain Out Of Recession survey will be online from noon Friday 7 January. We want to know about your business's performance in Q4 and your expectations for Q1. Go to www. roadtransport.com/britain to take part. Justin Stanton
Commercial Motor – the official UK journal of the International Truck of the Year and International Van of the Year Awards