Six months to find new transport manager
6th January 2011
Page 17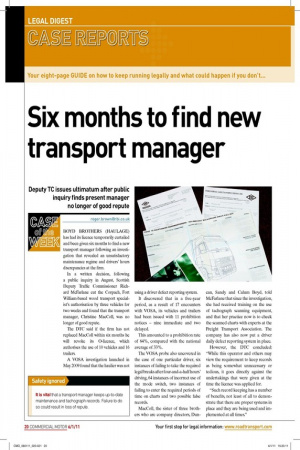 Page 17, 6th January 2011 —
Six months to find new transport manager
Close
Deputy TC issues ultimatum after public inquiry finds present manager no longer of good repute
roger.brown@rbi.co.uk
BOYD BROTHERS (HAULAGE) has had its licence temporarily curtailed and been given six months to ind a new transport manager following an investigation that revealed an unsatisfactory maintenance regime and drivers' hours discrepancies at the irm.
In a written decision, following a public inquiry in August, Scottish Deputy Trafic Commissioner Richard McFarlane cut the Corpach, Fort William-based wood transport specialist's authorisation by three vehicles for two weeks and found that the transport manager, Christine MacColl, was no longer of good repute.
The DTC said if the irm has not replaced MacColl within six months he will revoke its O-licence, which authorises the use of 10 vehicles and 16 trailers.
A VOSA investigation launched in May 2009 found that the haulier was not using a driver defect reporting system.
It discovered that in a ive-year period, as a result of 17 encounters with VOSA, its vehicles and trailers had been issued with 11 prohibition notices – nine immediate and two delayed.
This amounted to a prohibition rate of 64%, compared with the national average of 33%.
The VOSA probe also uncovered in the case of one particular driver, six instances of failing to take the required legal breaks after four-and-a-half hours' driving, 64 instances of incorrect use of the mode switch, two instances of failing to enter the required periods of time on charts and two possible false records.
MacColl, the sister of three brothers who are company directors, Dun can, Sandy and Calum Boyd, told McFarlane that since the investigation, she had received training on the use of tachograph scanning equipment, and that her practice now is to check the scanned charts with experts at the Freight Transport Association. The company has also now put a driver daily defect reporting system in place.
However, the DTC concluded: "While this operator and others may view the requirement to keep records as being somewhat unnecessary or tedious, it goes directly against the undertakings that were given at the time the licence was applied for.
"Such record keeping has a number of beneits, not least of all to demonstrate that there are proper systems in place and they are being used and implemented at all times."