Why is no one tackling the fuel duty issue?
6th January 2011
Page 16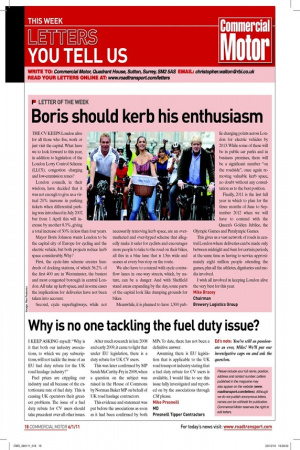 Page 16, 6th January 2011 —
Why is no one tackling the fuel duty issue?
Close
I KEEP ASKING myself: "Why is it that both our industry associations, to which we pay subscriptions, will not tackle the issue of an EU fuel duty rebate for the UK road haulage industry?" Fuel prices are crippling our industry and all because of the extortionate rate of fuel duty. This is causing UK operators their greatest problems. The issue of a fuel duty rebate for CV users should take precedent over all other issues. After much research in late 2008 and early 2009, it came to light that under EU legislation, there is a duty rebate for UK CV users.
This was later conirmed by MP Sarah McCarthy-Fry in 2009, when a question on the subject was raised in the House of Commons by Norman Baker MP on behalf of UK road haulage contractors.
This evidence and statement was put before the associations as soon as it had been conirmed by both MPs. To date, there has not been a deinitive answer.
Assuming there is EU legislation that is applicable to the UK road transport industry stating that a fuel duty rebate for CV users is available, I would like to see this issue fully investigated and reported on by the associations through CM please.
Mike Presneill MD Presneill Tipper Contractors
Ed's note: You're still as passionate as ever, Mike! We'll put our investigative caps on and ask the question.