Boris should kerb his enthusiasm
6th January 2011
Page 16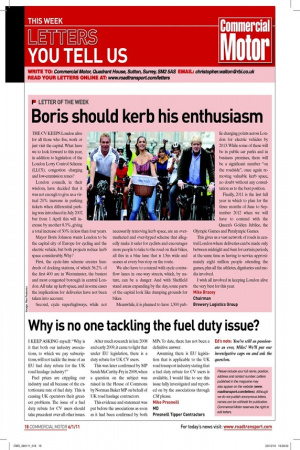 Page 16, 6th January 2011 —
Boris should kerb his enthusiasm
Close
THE CV KEEPS London alive for all those who live, work or just visit the capital. What have we to look forward to this year, in addition to legislation of the London Lorry Control Scheme (LLCS), congestion charging and low-emmission zones?
London councils, in their wisdom, have decided that it was not enough to give us a virtual 20% increase in parking tickets when differential parking was introduced in July 2007, but from 1 April this will increase by another 8.3%, giving a total increase of 30% in less than four years.
Mayor Boris Johnson wants London to be the capital city of Europe for cycling and the electric vehicle, but both projects reduce kerb space considerably. Why?
First, the cycle-hire scheme creates hundreds of docking stations, of which 36.2% of the irst 400 are in Westminster, the busiest and most congested borough in central London. All take up kerb space, and in some cases the implications for deliveries have not been taken into account.
Second, cycle superhighways, while not necessarily removing kerb space, are an overmarketed and over-hyped scheme that allegedly make it safer for cyclists and encourages more people to take to the road on their bikes, all this in a blue lane that is 1.5m wide and ceases at every bus stop on the route.
We also have to contend with cycle contralow lanes in one-way streets, which, by nature, can be a danger. And with Shefield stand areas expanding by the day, some parts of the capital look like dumping grounds for bikes.
Meanwhile, it is planned to have 1,300 pub lic charging points across London for electric vehicles by 2013. While some of these will be in public car parks and in business premises, there will be a signiicant number "on the roadside", once again removing valuable kerb space, no doubt without any consultation as to the best position.
Finally, 2011 is the last full year in which to plan for the three months of June to September 2012 when we will have to contend with the Queen's Golden Jubilee, the Olympic Games and Paralympic Games.
This gives us a vast network of roads in central London where deliveries can be made only between midnight and 6am for certain periods, at the same time as having to service approximately eight million people attending the games, plus all the athletes, dignitaries and media involved.
I wish all involved in keeping London alive the very best for this year.
Mike Bracey Chairman Brewery Logistics Group