Sea change for Maritime Transport
6th January 2011
Page 12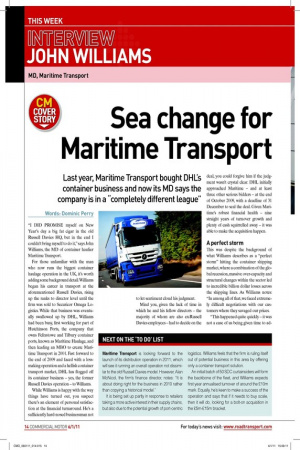 Page 13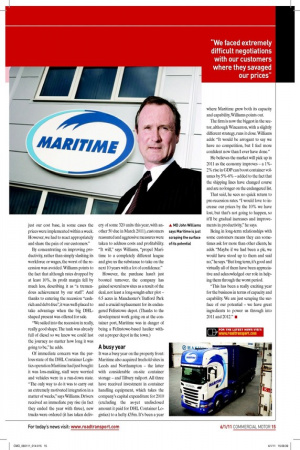 Page 12, 6th January 2011 —
Sea change for Maritime Transport
Close
Last year, Maritime Transport bought DHL's container business and now its MD says the company is in a "completely different league"
Words: Dominic Perry
"I DID PROMISE myself on New Year's day a big fat cigar in the old Russell Davies HQ, but in the end I couldn't bring myself to do it," says John Williams, the MD of container haulier Maritime Transport.
For those unfamiliar with the man who now runs the biggest container haulage operation in the UK, it's worth adding some background detail. Williams began his career in transport at the aforementioned Russell Davies, rising up the ranks to director level until the irm was sold to Securicor Omega Logistics. While that business was eventually swallowed up by DHL, Williams had been busy, irst working for part of Hutchinson Ports, the company that owns Felixstowe and Tilbury container ports, known as Maritime Haulage, and then leading an MBO to create Maritime Transport in 2001. Fast forward to the end of 2009 and faced with a lossmaking operation and a hellish container transport market, DHL has logged off its container business – yes, the former Russell Davies operation – to Williams.
While Williams is happy with the way things have turned out, you suspect there's an element of personal satisfaction at the inancial turnaround. He's a suficiently hard-nosed businessman not to let sentiment cloud his judgment.
Mind you, given the lack of time in which he and his fellow directors – the majority of whom are also ex-Russell Davies employees – had to decide on the deal, you could forgive him if the judgment wasn't crystal clear. DHL initially approached Maritime – and at least three other serious bidders – at the end of October 2009, with a deadline of 31 December to seal the deal. Given Maritime's robust inancial health – nine straight years of turnover growth and plenty of cash squirrelled away – it was able to make the acquisition happen.
A perfect storm
This was despite the background of what Williams describes as a "perfect storm" hitting the container shipping market, where a combination of the global recession, massive over-capacity and structural changes within the sector led to incredible billion dollar losses across the shipping lines. As Williams notes: "In among all of that, we faced extremely dificult negotiations with our customers where they savaged our prices.
"This happened quite quickly – it was not a case of us being given time to ad just our cost base, in some cases the prices were implemented within a week. However, we had to react appropriately and share the pain of our customers." By concentrating on improving productivity, rather than simply slashing its workforce or wages, the worst of the recession was avoided. Williams points to the fact that although rates dropped by at least 10%, its proit margin fell by much less, describing it as "a tremendous achievement by our staff". And thanks to entering the recession "cashrich and debt-free", it was well-placed to take advantage when the big DHLshaped present was offered for sale.
"We sailed into the recession in really, really good shape. The tank was already full of diesel so we knew we could last the journey no matter how long it was going to be," he adds.
Of immediate concern was the parlous state of the DHL Container Logistics operation Maritime had just bought: it was loss-making, staff were worried and vehicles were in a run-down state. "The only way to do it was to carry out an extremely motivated integration in a matter of weeks," says Williams. Drivers received an immediate pay rise (in fact they ended the year with three), new trucks were ordered (it has taken deliv ery of some 320 units this year, with another 50 due in March 2011), customers reassured and aggressive measures were taken to address costs and proitability. "It will," says Williams, "propel Maritime to a completely different league and give us the substance to take on the next 10 years with a lot of conidence." However, the purchase hasn't just boosted turnover, the company has gained several new sites as a result of the deal, not least a long-sought-after plot – 6.5 acres in Manchester's Trafford Park and a crucial replacement for its endangered Felixstowe depot. (Thanks to the development work going on at the container port, Maritime was in danger of being a Felixstowe-based haulier without a proper depot in the town.)
A busy year
It was a busy year on the property front: Maritime also acquired freehold sites in Leeds and Northampton – the latter with considerable on-site container storage – and Tilbury railport. All three have received investment in container handling equipment, which takes the company's capital expenditure for 2010 (excluding the as-yet undisclosed amount it paid for DHL Container Logistics) to a hefty £35m. It's been a year where Maritime grew both its capacity and capability, Williams points out.
The irm is now the biggest in the sector, although Wincanton, with a slightly different strategy, runs it close. Williams adds: "It would be arrogant to say we have no competition, but I feel more conident now than I ever have done." He believes the market will pick up in 2011 as the economy improves – a 1%2% rise in GDP can boost container volumes by 5%-6% – added to the fact that the shipping lines have changed course and are no longer on the endangered list.
That said, he sees no quick return to pre-recession rates. "I would love to increase our prices by the 10% we have lost, but that's not going to happen, so it'll be gradual increases and improvements in productivity," he says.
Being in long-term relationships with some customers means they can sometimes ask for more than other clients, he adds. "Maybe if we had been a plc, we would have stood up to them and said no," he says. "But long term, it's good and virtually all of them have been appreciative and acknowledged our role in helping them through the worst period.
"This has been a really exciting year for the business in terms of capacity and capability. We are just scraping the surface of our potential – we have great ingredients to power us through into 2011 and 2012." ■