New year, old fears
6th January 2011
Page 10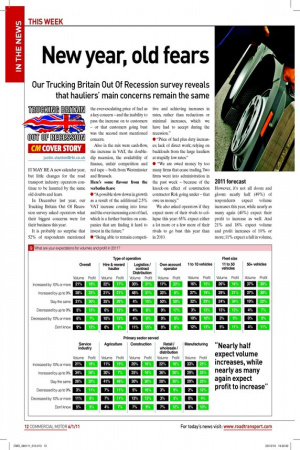 Page 11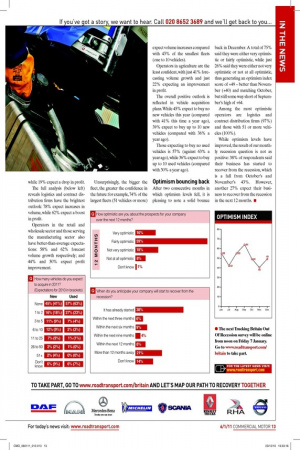 Page 10, 6th January 2011 —
New year, old fears
Close
Our Trucking Britain Out Of Recession survey reveals that hauliers' main concerns remain the same
justin.stanton@rbi.co.uk IT MAY BE A new calendar year, but little changes for the road transport industry: operators continue to be haunted by the same old doubts and fears.
In December last year, our Trucking Britain Out Of Recession survey asked operators what their biggest concerns were for their business this year.
It is probably no surprise that 52% of respondents mentioned the ever-escalating price of fuel as a key concern – and the inability to pass the increase on to customers – or that customers going bust was the second most mentioned concern.
Also in the mix were cash-low, the increase in VAT, the doubledip recession, the availability of inance, unfair competition and red tape – both from Westminster and Brussels.
Here's some lavour from the verbatim fears: ● "A possible slow down in growth as a result of the additional 2.5% VAT increase coming into force and the ever-increasing cost of fuel, which is a further burden on companies that are inding it hard to invest in the future." ● "Being able to remain competi tive and achieving increases in rates, rather than reductions or minimal increases, which we have had to accept during the recession." ● "Price of fuel plus duty increases; lack of direct work; relying on backloads from the large hauliers at stupidly low rates." ● "We are owed money by too many irms that cease trading. Two irms went into administration in the past week – because of the knock-on effect of construction contractor Rok going under – that owe us money." We also asked operators if they expect more of their rivals to collapse this year: 65% expect either a lot more or a few more of their rivals to go bust this year than in 2010.
2011 forecast
However, it's not all doom and gloom: nearly half (49%) of respondents expect volume increases this year, while nearly as many again (40%) expect their proit to increase as well. And 21% and 18% expect volume and proit increases of 10% or more; 11% expect a fall in volume, while 19% expect a drop in proit.
The full analysis (below left) reveals logistics and contract distribution irms have the brightest outlook: 78% expect increases in volume, while 62% expect a boost in proit.
Operators in the retail and wholesale sector and those serving the manufacturing sector also have better-than-average expectations: 58% and 62% forecast volume growth respectively; and 44% and 50% expect proit improvement. Unsurprisingly, the bigger the leet, the greater the conidence in the future: for example, 74% of the largest leets (51 vehicles or more) expect volume increases compared with 43% of the smallest leets (one to 10 vehicles).
Operators in agriculture are the least conident, with just 41% forecasting volume growth and just 22% expecting an improvement in proit.
The overall positive outlook is relected in vehicle acquisition plans. While 45% expect to buy no new vehicles this year (compared with 41% this time a year ago), 39% expect to buy up to 10 new vehicles (compared with 36% a year ago).
Those expecting to buy no used vehicles is 57% (against 63% a year ago), while 36% expect to buy up to 10 used vehicles (compared with 30% a year ago).
Optimism bouncing back
After two consecutive months in which optimism levels fell, it is pleasing to note a solid bounce back in December. A total of 75% said they were either very optimistic or fairly optimistic, while just 26% said they were either not very optimistic or not at all optimistic, thus generating an optimism index score of +49 – better than November (+40) and matching October, but still some way short of September's high of +64.
Among the most optimistic operators are logistics and contract distribution irms (97%) and those with 51 or more vehicles (100%).
While optimism levels have improved, the result of our monthly recession question is not as positive: 38% of respondents said their business has started to recover from the recession, which is a fall from October's and November's 43%. However, another 27% expect their business to recover from the recession in the next 12 months. ■