Our Despatches from the Front (No. 69).
6th January 1916
Page 6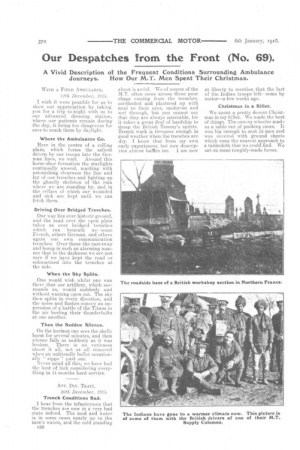 Page 7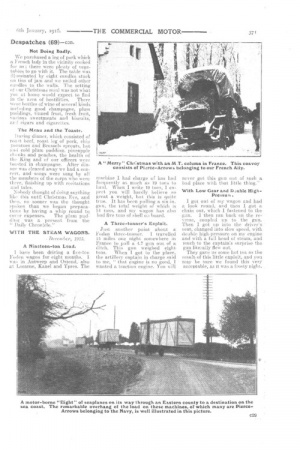 Page 6, 6th January 1916 —
Our Despatches from the Front (No. 69).
Close
A Vivid Description of the Frequent Conditions Surrounding Ambulance Journeys. How Our M.T. Men Spent Their Christmas.
WITH A FIELD AMBULANCE, 12th December, 1915.
I wish it were possible for us to show our appreciation by taking you for a trip tonight with Os to our advanced dressing station, where our patients remain during the day, it being too dangerous for cars to reach them by daylight.
Where the Ambulances Go.
Here in the centre of a rolling plain; which forms the salient driven by our troops into the German lines, we wait. Around this horse-shoe formation the starlights continually ascend, marking with astonishing clearness the line and lay of our trenches and lighting up the ghastly skeleton of the ruin where we are standing by, and in the cellars of which our wounded and sick are kept until we can fetch them. .
Driving Over Bridged Trenches.
Our way lies over historic ground, and the road over the open plain takes us over bridged trenches which run beneath us—some French, others German, and others again our own communication trenches. Over these the cars sway and bump in such an aIarming-manner that in the darkness we are not sure if we have kept the road or suhmarined into the trenches at the side.
When the Sky Splits.
One would wish whilst one was there that our artillery, which surrounds us, would suddenly and without warning open out. The sky then splits in, every direction, and the noise and flashes convey an impression of a battle of the Titans in the air hurling their thunderbolts at one another.
Then the Sudden Silence.
On the horizon one sees the shells burst for several minutes, and then silence falls as suddenly as it was broken. There is an cerieness about it all, not at all removed when an unfriendly bullet occasionally " zipps " past one. Never mind all this, we have had the best of luck considering everything in 14 months hard service.
ATT. Div. TRAIN,
26th December, 1915. Trench Conditions Bad.
I hear from the infantrymen that the trenches are now in a very bad state indeed. The mud and water is in some cases nearly up to the men's waists, and the cold standing €26
about is awful. We of course of the M.T. often come across these poor chaps coming from the trenches; sorefooted and plastered up with mud to their eyes, unshaven and wet through, but you cannot say that they are always miserable, for it takes a great deal of hardship to damp the British Tommy's spirits. Trench work is tiresome enough in good weather when the trenches are dry. I know that from my own early experiences, but now description almost baffles me. I am now
at liberty to mention that the last of the Indian troops left—some by motor—a few weeks ago.
Christmas in a Billet.
We spent a pretty decent Christmas in my billet. We made the best of things. The convoy wheeler mada us a table out of packing cases. It was big enough to seat lb men and was covered with ground sheets which were the nearest approach to a tablecloth that we could find. We sat on some roughly-made forms. Not Doing Badly.
We purchased a leg of pork which a French lady in the vicinity cooked for us ; there were plenty of vegetables to go with it. The table was illuminated by eight candles stuck on tins of jam and we nailed other candles to the walls. The setting of (:ur Christmas meal was not what you at home would expect to find in the area of hostilities. There were bottles of wine of several kinds including good champagne, plum puddings, tinned fruit, fresh fruit, various sweetmeats and biscuits, an cigars and cigarettes.
The Menu and the Toast9.
lluring dinner, which consisted of roast beef, roast leg of pork, chip potatoes and Brussels sprouts, hot anti coId plum pudding, pineapple chunks and peaches, the health of the King and of our officers were toasted in champagne. After dinner was cleared away we had a concert, and • songs were sung by all the members of the corps who were there, 'finishing up with recitations and tales.
Nobody thought of doing anything Ilk e this until Christmas Eve, and then, no sooner was the thought spoken than we began preparations by having a whip round to
cover expenses. The plum pudding was a present from the " Daily Chronicle.''
WITH THE STEAM WAGONS.
. December, 1915.
A Nineteen-ton Load.
I have been driving a five-ton Foulen wagon for eight. months. I was in Antwerp and Ostend, also at Locarne, Kanel and Ypres. The
machine I had charge of has had frequently as much as 19 tons. to haul. When I write 19 tons, I expect you will hardly believe so great a weight, hut this is quite true. It has been pulling a six-in. gun, the total weight of which is
14 tons, and my wagon has also had five tons of shell on board.
A Three-tanner's Exploit.
Just another point about a Foden three-tanner. I travelled 15 miles one night somewhere in France to pull a 4.7 gun out of a ditch. This gun weighed eight tons. When T got to the place, the artillery captain in charge said to me, " that engine is no good,. I wanted a traction engine. You will never get this gun out of such a bad place with that little thing.
With Low Gear and DJuble HighPre s su
I got out of my wagon and had a look round, and then I got a chain out, which I fastened to the gun. I then ran back on the reverse, coupled up to the gun. Then I got up into the driver's seat, changed into slow speed, with double high-pressure on my engine and with a full head of steam, and much to the captain's surprise the gun lite.fally flew out.
They gave us some hot tea, as the rc,sult of this little exploit, and you may be sure we found this very acceptable, as it was a frosty night.