"Many Inventions."
6th January 1916
Page 4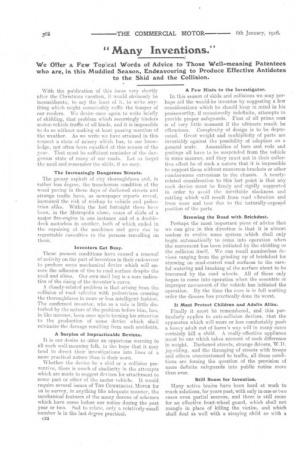 Page 5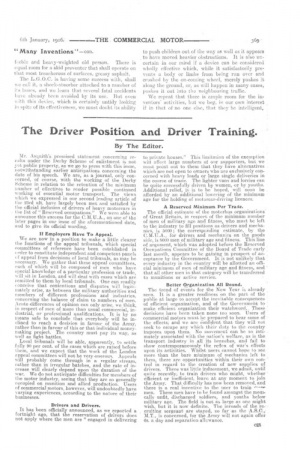 Page 4, 6th January 1916 —
"Many Inventions."
Close
We Offer a Few Toplcal Words of Advice to Those Well-meaning Patentees who are, in this Muddied Season, Endeavouring to Produce Effective Antidotes to the Skid and the Collision.
With the publication of this issue very shortly after the Christmas -vacation, it would obviously be inconsiderate, to say the least of it, to write anything which might conceivably ruffle the temper of our readers. We desire once again to write briefly Of skidding, that problem which recurringly hinders motor-vehicle traffic of all kinds, and it is impossible to do so without making at least passing mention of the weather. As we write we have attained in this respect a state of misery which has, to our knowledge, not often been equalled at this season of the year. That must be sufficient reminder of the dangerous state of many of our roads. Let us forget the mud and remember the skids, if we may.
The Increasingly Dangerous. Streets.
The greasy asphalt of city thoroughfares and, in rather less degree,. the treacherous condition of the wood paving in these days of darkened streets and strange traffic have, as newspaper reports reveal, increased the risk of, mishap to vehicle and. pedestrian alike. )eVithin the last fortnight there hare been, in the Metropolisalone, eass. of skids of -a mator fire-engine in one instance _and_ of "a. double• deck motorbus in another, both of which ended in the capsizing of the niachnies and gave rise : to regrettable caSualties to the p'ersons -traYelling on them.
inventors ,Get Busy.
These present conditions have eaUsed: a renewal of activity on the part of inventors in their endeavour to produce some mechanical device which will ensure the adhesion of tire to road surface despite the, mud and slime. Our own mail bag is a sure indicatibn of the rising of the inventor's curve.
A closely-related problem is that arising from the collision of road vehicles with pedestrians crossing the thoroughfares in more or less intelligent fashion.
• The confirmed inventor, who as a rule is little disturbed by the nature of the problem before him, has, in like manner, been once again turning his attention to the production of some device which shall minimize the damage resulting from such accidents.
A Surplus of Impracticable Devices.
It is our desire to utter an opportune warning to all such well-meaning folk, in the hope that it may tend to direct their investigations into tines of a more practical nature than is their wont.
Whether the device he a skid or a collision preventive, there is much of similarity in the attempts which are made to suggest devices for attaehment to some part or other of the motor vehicle. It would require several issues of THE COMMERCIAL MOTOR for us to survey, in anything like adequate manner, the mechanical features of the many dozens of schemes which have come before our notice during the past year or two. Sad to relate, only a relatively-small number is in the last degree practical._ c22 A Few Hints to the Investigator.
In this season of skids and collisions we may perhaps aid the would-be inventor by suggesting a few considerations which he should keep in mind in his praiseworthy, if occasionally indefinite, attempts to provide proper safeguards. First of all prime cost is of very little moment if the ultimate result be efficacious. Complexity of design is to be deprecated. Great weight and multiplicity of parts are invariably against the possibility of adoption on a general scale. Assemblies of bars and rods and gratings all have to be suspended from the vehicle in some manner, and they must not in their colleetire effect be of such a nature that it is impossible to support them without numerous brackets or other cumbersome extensions to the chassis. A nearlyrelated consideration to this last point is that any such device must be firmly and •rigidly supported in order to avoid the, inevitable slackness and rattling which will result from road vibration and. from wear and tear due to th6 • naturally-exposed position of the parts.
Strewing the Road with,Brickdust.
Perhaps the most important piece of advice that we -can give in this direction is that it is almost useless to evolve some syStem _which shall only begin automatically to come into operation when the movement has been initiated by the skidding or the collision itself, , We . can recall numberless devices ranging from the grinding up of brickclust for strewing on mud-coated road surfaces to the careful watering and brushing of the surface about to he traversed by the road wheels. All of these only begaii to come into operation when the eccentric or improper movement of the vehicle has initiated the operation. By the time the cure is in full working order the disease has practically done its worst.
It Must Protect Children and'Adults Alike. Finally it must be remembered, and this par ticularly applies to anti-collision devices, that the apparatus which will more or less comfortably push a heavy adult out of harm's way will in many cases certainly kill a child. A really-effective appliance must be one which takes account of such difference in weight. Darkened streets, strange drivers, W.D. joy-riding, and the thronging of streets with troops and others unaccustomed to traffic, all these conditions are forcing the question of the provision of more definite safeguards into public notice more than ever.
Still Room for Invention.
Many active brains have been hard at work to reach solutions, for years past, with only in one or two cases even partial success, and there is still room for an effective front-wheel guard, which shall not mangle in place of killing the victim, and which shall deal as well with a straying child as with a " Many Inventions "—con.
feeble and heavy-weighted old person. There is equal room for a skid preventer that shall operate on that most treacherous of surfaces, greasy asphalt.
The L.G.O.C. is having some success with, shall we call it, a shock-absorber attached to a number of ifs buses, and we learn that several fatal accidents have already been avoided by its use. But even a-ith this device, which is certainly untidy looking in spite of its effectiveness, we must doubt its ability
to push children out of the way as well as it appears to have moved heavier obstructions. It is also Uncertain in our mind if a device can be considered wholly effective which, while it satisfactorily pre vents a body or limbs from being run over and crushed by the on-coming wheel, merely pushes it along the ground, or, as will happen in many cases, pushes it out into the 'neighbouring traffic.
We repeat that there is ample room for the inventors' activities, but we beg, in our own interest if in that of no one else, that they be intelligent,