GREAT EXPECTATIONS: Malcolm Group said it expects the Euro-6 Volvo
6th February 2014
Page 8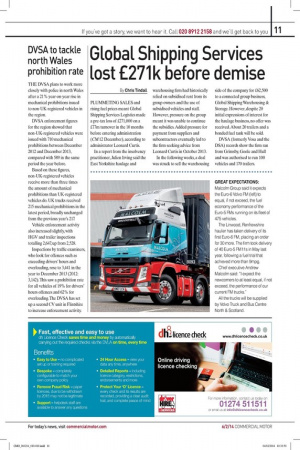 Page 8, 6th February 2014 —
GREAT EXPECTATIONS: Malcolm Group said it expects the Euro-6 Volvo
Close
FM (left) to equal, if not exceed, the fuel economy performance of the Euro-5 FMs running on its fleet of 475 vehicles.
The Linwood, Renfrewshire haulier has taken delivery of its first Euro-6 FM, placing an order for 30 more. The firm took delivery of 40 Euro-5 FM Us in May last year, following a fuel trial that achieved more than 9mpg.
Chief executive Andrew Malcolm said: "I expect the newcomers to at least equal, if not exceed, the performance of our current FM trucks."
All the trucks will be supplied by Volvo Truck and Bus Centre North & Scotland.