UK seizes second place in EU truck registrations
6th February 2014
Page 6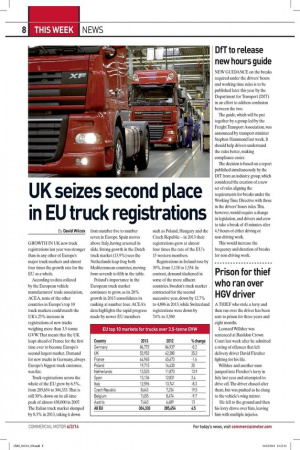 Page 6, 6th February 2014 —
UK seizes second place in EU truck registrations
Close
By David Wilcox
GROWTH IN UK new truck registrations last year was stronger than in any other of Europe's major truck markets and almost four times the growth rate for the EU as a whole.
According to data collated by the European vehicle manufacturers' trade association, ACEA, none of the other countries in Europe's top 10 truck markets could match the UK's 25% increase in registrations of new trucks weighing more than 3.5-tonne GVVV. That meant that the UK leapt ahead of France for the first time ever to become Europe's second largest market. Demand for new trucks in Germany, always Europe's biggest truck customer, was flat. Truck registrations across the whole of the EU grew by 6.5%, from 285,654 to 304,333. That is still 30% down on its all-time peak of almost 438,000 in 2007. The Italian truck market slumped by 8.3% in 2013, taking it down
from number five to number seven in Europe. Spain moves above Italy, having arrested its slide. Strong growth in the Dutch truck market (13.9%) sees the Netherlands leap-frog both Mediterranean countries, moving from seventh to fifth in the table. Poland's importance in the European truck market continues to grow, as its 20% growth in 2013 consolidates its ranking at number four. ACEA's data highlights the rapid progress made by newer EU members
such as Poland, Hungary and the Czech Republic — in 2013 their registrations grew at almost four times the rate of the EU's 15 western members.
Registrations in Ireland rose by 39%, from 1,118 to 1,554. In contrast, demand slackened in some of the more affluent countries. Sweden's truck market contracted for the second successive year, down by 12.7% to 4,896 in 2013, while Switzerland registrations were down by 7.4% to 3,569.