Simply the best
6th February 2014
Page 39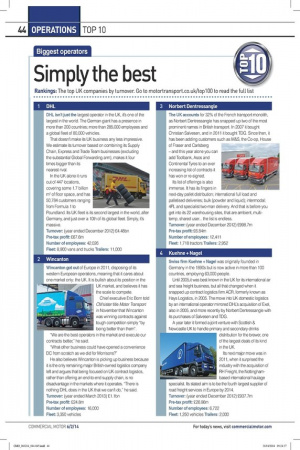 Page 40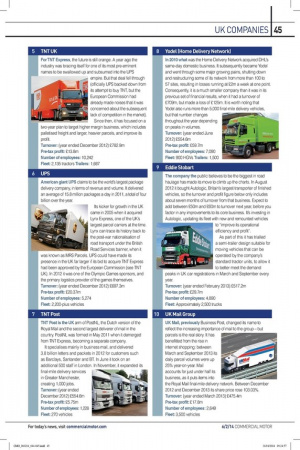 Page 39, 6th February 2014 —
Simply the best
Close
Rankings: The top UK companies by turnover. Go to motortransport.co.uk/topl 00 to read the full list
DHL
DHL isn't just the largest operator in the UK, it's one of the largest in the world. The German giant has a presence in more than 200 countries; more than 285,000 employees and a global fleet of 80,000 vehicles. That doesn't make its UK business any less impressive. We estimate its turnover based on combining its Supply Chain, Express and Trade Team businesses (excluding the substantial Global Forwarding arm), makes it four
times bigger than its nearest rival. In the UK alone it runs out of 447 locations, covering some 1.7 billion m2 of floor space, and has 50,784 customers ranging from Formula 1 to
Poundland. Its UK fleet is its second largest in the world, after Germany, and just over a 10th of its global fleet. Simply, it's massive. Turnover: (year ended December 2012) £4.48bn Pre-tax profit: £67.6m Number of employees: 42,026 Fleet: 8,900 vans and trucks Trailers: 11,000
Wincanton
Wincanton got out of Europe in 2011, disposing of its western European operations, meaning that it cares about one market only: the UK. It is bullish about its position in the UK market, and believes it has
the scale to compete. Chief executive Eric Born told
CM sister title Motor Transport in November that Wincanton was winning contracts against tough competition simply "by being better than them".
"We are the best operators in the market and execute our contracts better," he said.
"What other business could have opened a convenience DC from scratch as we did for Morrisons?" He also believes Wincanton is picking up business because it is the only remaining major British-owned logistics company left and argues that being focused on UK contract logistics, rather than offering an end-to-end supply chain, is no disadvantage in the markets where it operates. "There is nothing DHL does in the UK that we can't do," he said. Turnover: (year ended March 2013) £1.1bn Pre-tax profit: £24.8m Number of employees: 16,000 Fleet: 3,350 vehicles
Norbert Dentressangte
The UK accounts for 32% of the French transport monolith, as Norbert Dentressangle has snapped up two of the most prominent names in British transport. In 2007 it bought Christian Salvesen, and in 2011 it bought TDG. Since then, it has been adding customers such as M&S, the Co-op, House
of Fraser and Carlsberg — and this year alone you can add Toolbank, Asos and Continental Tyres to an ever increasing list of contracts it has won or re-signed. Its list of offerings is also immense. It has its fingers in
next-day pallet distribution; international full load and palletised deliveries; bulk (powder and liquid); intermodal; 4PL and specialist two-man delivery. And that is before you get into its 22 warehousing sites, that are ambient, multitemp, shared user... the list is endless. Turnover: (year ended December 2012) £998.7m Pre-tax profit: £6.84m Number of employees: 12,411 Fleet: 1,718 tractors Trailers: 2,952
Kuehne + Nagel
Swiss firm Kuehne + Nagel was originally founded in Germany in the 1890s but is now active in more than 100 countries, employing 63,000 people.
Until 2005,it was best known in the UK for its international air and sea freight business, but all that changed when it snapped up contract logistics firm ACR, formerly known as Hays Logistics, in 2005. The move into UK domestic logistics by an international operator mirrored DHL's acquisition of Exel, also in 2005, and more recently by Norbert Dentressangle with its purchases of Salvesen and TDG. A year later it formed a joint venture with Scottish & Newcastle UK to handle primary and secondary drinks
distribution for the brewer, one of the largest deals of its kind in the UK. Its next major move was in 2011, when it surprised the industry with the acquisition of RH Freight, the Nottinghambased international haulage
specialist. Its stated aim is to be the fourth largest supplier of road freight services in Europe by 2014. Turnover: (year ended December 2012) £937.7m Pre-tax profit: £26.96m Number of employees: 6,722 Fleet: 1,250 vehicles Trailers: 2,000
5 TNT UK
For TNT Express, the future is still orange. A year ago the industry was bracing itself for one of its most pre-eminent names to be swallowed up and subsumed into the UPS
empire. But that deal fell through (officially UPS backed down from its attempt to buy TNT, but the European Commission had already made noises that it was concerned about the subsequent lack of competition in the market). Since then, it has focused on a
two-year plan to target higher margin business, which includes palletised freight and larger, heavier parcels, and improve its profit. Turnover: (year ended December 2012) £782.9m Pre-tax profit: £13.8m Number of employees: 10,242 Fleet: 2,135 tractors Trailers: 1,667
UPS
American giant UPS claims to be the world's largest package delivery company, in terms of revenue and volume. It delivered an average of 15.8 million packages a day in 2011, a total of four billion over the year. Its kicker for growth in the UK came in 2005 when it acquired Lynx Express, one of the UK's largest parcel carriers at the time. Lynx can trace its history back to the post-war nationalisation of road transport under the British Road Services banner, when it was known as MRS Parcels. UPS could have made its presence in the UK far larger if its bid to acquire TNT Express had been approved by the European Commission (see TNT UK). In 2012 it was one of the Olympic Games sponsors, and the primary logistics provider of the games themselves. Turnover: (year ended December 2012) £697.3m Pre-tax profit: £20.37m Number of employees: 5,274 Fleet: 2,200-plus vehicles
TNT Post
TNT Post is the UK arm of PostNL, the Dutch version of the Royal Mail and the second largest deliverer of mail in the country. PostNL was formed in May 2011 when it demerged from TNT Express, becoming a separate company. It specialises mainly in business mail, and delivered 3.8 billion letters and packets in 2012 for customers such as Barclays, Santander and BT. In June it took on an additional 500 staff in London. In November, it expanded its final-mile delivery services in Greater Manchester, creating 1,000 jobs. Turnover: (year ended December 2012) £554.6m Pre-tax profit: £5.75m Number of employees: 1,228 Fleet: 270 vehicles
Yodel (Home Delivery Network)
In 2010 what was the Home Delivery Network acquired DHL's same-day domestic business. It subsequently became Yodel and went through some major growing pains, shutting down and restructuring some of its network from more than 100 to 57 sites, resulting in losses running at E2m a week at one point. Consequently, it is a much smaller company than it was in its previous set of financial results, when it had a turnover of £709m, but made a loss of £125m. It is worth noting that Yodel also runs more than 5,000 final-mile delivery vehicles, but that number changes throughout the year depending on peaks in volumes. Turnover: (year ended June 2012) £554.6m Pre-tax profit: £59.7m Number of employees: 7,090 Fleet: 900 HGVs Trailers: 1,500
Eddie Stobart
The company the public believes to be the biggest in road haulage has made its move to climb up the charts. In August 2012 it bought Autologic, Britain's largest transporter of finished vehicles, so the turnover and profit figure below only includes about seven months of turnover from that business. Expect to add between £50m and £60m to turnover next year, before you factor in any improvements to its core business. It's investing in Autologic, updating its fleet with new and remounted vehicles
to "improve its operational efficiency and profit". As part of this it has trialled a semi-trailer design suitable for moving vehicles that can be operated by the company's standard tractor units, to allow it to better meet the demand
peaks in UK car registrations in March and September every year. Turnover: (year ended February 2013) £517.2m Pre-tax profit: £29.7m Number of employees: 4,890 Fleet: Approximately 2,500 trucks
UK Mail Group
UK Mail, previously Business Post, changed its name to reflect the increasing importance of mail to the group — but parcels is the real story. It has benefitted from the rise in internet shopping: between March and September 2013 its daily parcel volumes were up 25% year-on-year. Mail accounts for just under half its business, as it puts items into the Royal Mail final-mile delivery network. Between December 2012 and December 2013 its share price rose 103.03%. Turnover: (year ended March 2013) £475.4m Pre-tax profit: El 7.8m Number of employees: 2,649 Fleet: 3,500 vehicles