Not so youn
6th February 2014
Page 35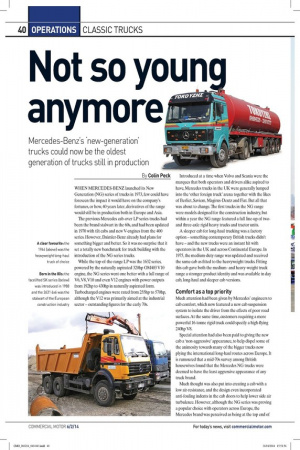 Page 36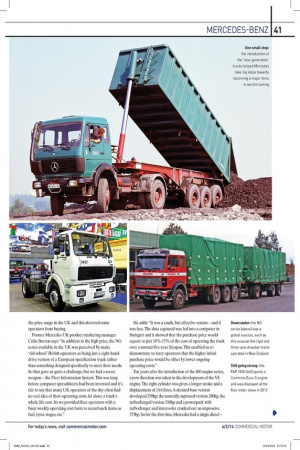 Page 37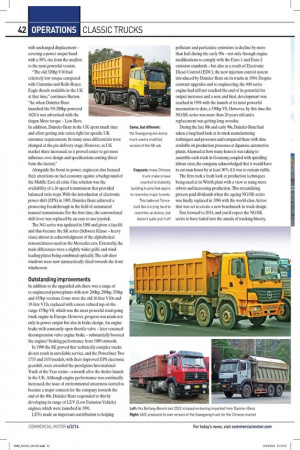 Page 38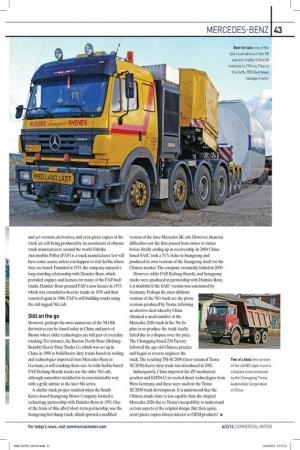 Page 35, 6th February 2014 —
Not so youn
Close
anymore
Mercedes-Benz's 'new-generation' trucks could now be the oldest generation of trucks still in production By Colin Peck
WHEN MERCEDES-BENZ launched its New Generation (NG) series of trucks in 1973, few could have foreseen the impact it would have on the company's fortunes, or how, 40 years later, derivatives of the range would still be in production both in Europe and Asia.
The previous Mercedes cab-over LP series trucks had been the brand stalwart in the 60s, and had been updated in 1970 with tilt cabs and new V-engines from the 400 series. However, Daimler-Benz already had plans for something bigger and better. So it was no surprise that it set a totally new benchmark for truck building with the introduction of the NG series trucks.
While the top-of-the-range LP was the 1632 series, powered by the naturally aspirated 320hp 0M403 V10 engine, the NG series went one better with a full range of V6,V8,V10 and even V12 engines with power outputs from 192hp to 430hp in naturally aspirated form. Turbocharged engines were rated from 255hp to 570hp, although the V12 was primarily aimed at the industrial sector — outstanding figures for the early 70s.
Introduced at a time when Volvo and Scania were the marques that both operators and drivers alike aspired to have, Mercedes trucks in the UK were generally lumped into the 'other foreign truck' arena together with the likes of Berliet, Saviem, Magirus-Deutz and Fiat. But all that was about to change. The first trucks in the NG range were models designed for the construction industry, but within a year the NG range featured a full line-up of twoand three-axle rigid heavy trucks and tractor units.
A sleeper cab for long-haul trucking was a factory option — something contemporary British trucks didn't have — and the new trucks were an instant hit with operators in the UK and across Continental Europe. In 1975, the medium-duty range was updated and received the same cab as fitted to the heavyweight trucks. Fitting this cab gave both the mediumand heavy-weight truck range a stronger product identity and was available in day cab, long-haul and sleeper cab versions.
Comfort as a top priority
Much attention had been given by Mercedes' engineers to cab comfort, which now featured a new cab suspension system to isolate the driver from the effects of poor road surfaces. At the same time, customers requiring a more powerful 16-tonne rigid truck could specify a high-flying 240hp V8.
Special attention had also been paid to giving the new cab a 'non-aggressive' appearance, to help dispel some of the animosity towards many of the bigger trucks now plying the international long-haul routes across Europe. It is rumoured that a mid-70s survey among British housewives found that the Mercedes NG trucks were deemed to have the least aggressive appearance of any truck brand. Much thought was also put into creating a cab with a low air-resistance, and the design even incorporated anti-fouling indents in the cab doors to help lower side air turbulence. However, although the NG series was proving a popular choice with operators across Europe, the Mercedes brand was perceived as being at the top end of
the price range in the UK and this deterred some operators from buying.
Former Mercedes UK product marketing manager Colin Burton says: "In addition to the high price, the NG series available in the UK was perceived by many 'old-school' British operators as being just a right-handdrive version of a European specification truck rather than something designed specifically to meet their needs. So that gave us quite a challenge, but we had a secret weapon — the Fleet Information System. This was long before computer spreadsheets had been invented and it's fair to say that many UK operators of the day often had no real idea of their operating costs, let alone a truck's whole life cost. So we provided fleet operators with a basic weekly operating cost form to record such items as fuel, tyres, wages, etc."
He adds: "It was a crude, but effective system — and it was free. The data captured was fed into a computer in Stuttgart and it showed that the purchase price would equate to just 10%-15% of the cost of operating the truck over a normal five-year lifespan. This enabled us to demonstrate to wary operators that the higher initial purchase price would be offset by lower ongoing operating costs." Ten years after the introduction of the 400 engine series, a new direction was taken in the development of the V8 engine. The eight-cylinder was given a longer stroke and a displacement of 14.6 litres. A derated base version developed 250hp; the naturally aspirated version 280hp, the turbocharged version 330hp and a powerpack with turbocharger and intercooler cranked out an impressive 375hp. So for the first time, Mercedes had a single diesel —
with unchanged displacement — covering a power output band with a 50% rise from the smallest to the most powerful version.
"The old 320hp V10 had relatively low torque compared with Cummins and Rolls-Royce Eagle diesels available in the UK at that time," continues Burton. "So, when Daimler-Benz launched the V8 280hp-powered 1628 it was advertised with the slogan More torque — Less Revs.
— In addition, Daimler-Benz in the UK spent much time and effort getting axle ratios right for specific UK customer requirements. In many cases differentials were changed at the pre-delivery stage. However, as UK market share increased, so it proved easier to get more influence over design and specifications coming direct from the factory."
Alongside the boost in power, engineers also focused their attentions on fuel economy against a background of the Middle East oil crisis. One solution was the availability of a 16-speed transmission that provided balanced ratio steps. With the introduction of electronic power shift (EPS) in 1985, Daimler-Benz achieved a pioneering breakthrough in the field of automated manual transmissions. For the first time, the conventional shift lever was replaced by an easy-to-use joystick.
The NG series was updated in 1988 and given a facelift and thus became the SK series (Schwere Klasse — heavy class) almost in acknowledgment of the alphabetical nomenclatures used on the Mercedes cars. Externally, the main differences were a slightly wider grille and windleading plates being combined optically. The cab door windows were now symmetrically tilted towards the front windscreen.
Outstanding improvements
In addition to the upgraded cab, there was a range of re-engineered powerplants with new 260hp, 290hp, 354hp and 435hp versions. Gone were the old 16-litre VlOs and 19-litre V12s, replaced with a more refined top-of-therange 475hp V8, which was the most powerful road-going truck engine in Europe. However, progress was made not only in power output but also in brake design. An engine brake with constantly open throttle valve — later renamed decompression valve engine brake — substantially boosted the engines' braking performance from 1989 onwards.
In 1990 the SK proved that technically complex trucks do not result in unreliable service, and the Powerliner Two 1733 and 2433 models, with their improved EPS electronic gearshift, were awarded the prestigious International Truck of the Year status — a month after the dealer launch in the UK. Although engine performance was continually increased, the issue of environmental awareness started to became a major concern for the company towards the end of the 80s Daimler-Benz responded to this by developing its range of LEV (Low Emission Vehicle) engines, which were launched in 1991. LEVs made an important contribution to helping
pollutant and particulate emissions to decline by more than half during the early 90s — not only through engine modifications to comply with the Euro-1 and Euro-2 emission standards — but also as a result of Electronic Diesel Control (EDC), the new injection control system introduced by Daimler-Benz on its trucks in 1994. Despite constant upgrades and re-engineering, the 400 series engine had still not reached the end of its potential for output increases and a new, and final, development was reached in 1994 with the launch of its most powerful incarnation to date, a 530hp V8. However, by this time the NG/SK series was more than 20 years old and a replacement was getting long overdue.
During the late 80s and early 90s, Daimler-Benz had taken a long hard look at its truck manufacturing techniques and processes and compared these with data available on production processes at Japanese automotive plants. Alarmed at how many hours it was taking to assemble each truck in Germany, coupled with spiralling labour rates, the company acknowledged that it would have to cut man-hours by at least 30% if it was to remain viable.
The firm took a fresh look at production techniques being used at its Worth plant with a view to using more robots and increasing production. This streamlining process paid dividends when the ageing NG/SK series was finally replaced in 1996 with the world-class Actros that was set to create a new benchmark in truck design. Fast forward to 2014, and you'd expect the NG/SK series to have faded into the annals of trucking history,
and yet versions, derivatives, and even pirate copies of the truck are still being produced by an assortment of obscure truck manufacturers around the world. Fabrika Automobila Priboj (FAP) is a truck manufacturer few will have come across, unless you happen to visit Serbia where they are based. Founded in 1953, the company enjoyed a long-standing relationship with Daimler-Benz, which provided engines and licences for many of the FAP-built trucks Daimler-Benz granted FAP a new licence in 1975, which was extended to heavier trucks in 1978 and then renewed again in 1986. FAP is still building trucks using the old rugged NG cab.
Stitt on the go
However, perhaps the most numerous of the NG/SK derivatives can be found today in China and parts of Russia where older technologies are still part of everyday trucking. For instance, the Baotou North-Benz (BeifangBenchi) Heavy-Duty Trucks Co, which was set up in China in 1988 to build heavy-duty trucks based on tooling and technologies imported from Mercedes-Benz in Germany, is still cranking them out. As with Serbia-based FAP, Beifang-Benchi trucks use the older NG cab, although somewhat modified in its own inimitable way with a grille similar to the later SK series. A similar truck project resulted when the South Korea-based Ssangyong Motor Company formed a technology partnership with Daimler-Benz in 1991. One of the fruits of this, albeit short-term partnership, was the Ssangyong 6x4 dump truck, which sported a modified
version of the later Mercedes SK cab. However, financial difficulties saw the firm passed from owner to owner before finally ending up in receivership. In 2004 Chinabased SAIC took a 51% stake in Ssangyong and produced its own versions of the Ssangyong truck for the Chinese market. The company eventually folded in 2009. However, while FAP, Beifang-Benchi, and Ssangyong trucks were produced in partnership with Daimler-Benz, it is doubtful if the SAIC version was sanctioned by Germany. Perhaps the most dubious versions of the NG truck are the pirate versions produced by Tiema, following an abortive deal whereby China obtained a small number of the Mercedes 2026 truck in the 70s. Its plan to co-produce the truck locally failed due to a dispute over the price. The Chongqing-based 256 Factory followed the age-old Chinese practice and began to reverse-engineer the
truck. The resulting TM-5C2030 (later renamed Tiema XC2030) heavy-duty truck was introduced in 1982. Subsequently, China imported the ZF mechanical gearbox and KHD413 air-cooled diesel technologies from West Germany, and these were used on the Tiema XC2030 truck development. It is understood that the Chinese-made clone is less capable than the original Mercedes 2026 due to Tiema's incapability to understand certain aspects of the original design. But then again, aren't pirate copies always inferior to OEM products? •