Steeling the LimeLight
6th February 2014
Page 31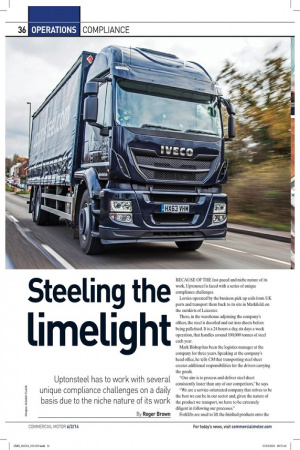 Page 32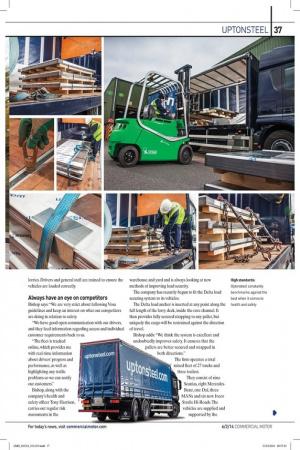 Page 33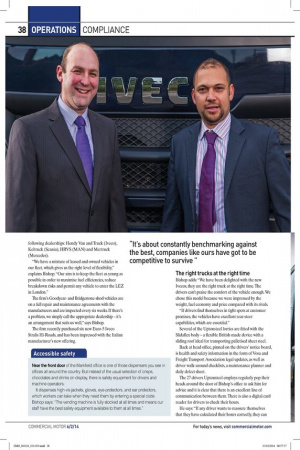 Page 34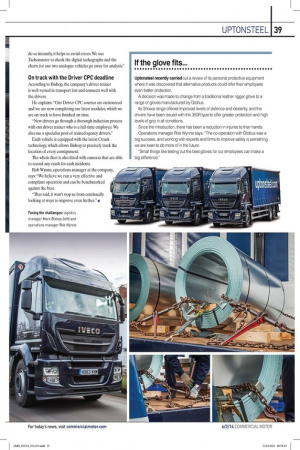 Page 31, 6th February 2014 —
Steeling the LimeLight
Close
Uptonsteel has to work with several unique compliance challenges on a daily basis due to the niche nature of its work By Roger Brown
BECAUSE OF THE fast-paced and niche nature of its work, Uptonsteel is faced with a series of unique compliance challenges.
Lorries operated by the business pick up coils from UK ports and transport them back to its site in Markfield, on the outskirts of Leicester.
There, in the warehouse adjoining the company's offices, the steel is decoiled and cut into sheets before being palletised. It is a 24 hours a day, six days a week operation, that handles around 100,000 tonnes of steel each year.
Mark Bishop has been the logistics manager at the company for three years. Speaking at the company's head office, he tells CM that transporting steel sheet creates additional responsibilities for the drivers carrying the goods.
"Our aim is to process and deliver steel sheet consistently faster than any of our competitors," he says.
"We are a service-orientated company that strives to be the best we can be in our sector and, given the nature of the product we transport, we have to be extremely diligent in following our processes." Forklifts are used to lift the finished products onto the
lorries. Drivers and general staff are trained to ensure the vehicles are loaded correctly.
Always have an eye on competitors
Bishop says: "We are very strict about following Vosa guidelines and keep an interest on what our competitors are doing in relation to safety. "We have good open communication with our drivers, and they feed information regarding access and individual
customer requirements back to us. "The fleet is tracked online, which provides me with real-time information about drivers' progress and performance, as well as highlighting any traffic problems so we can notify our customers': Bishop, along with the company's health and safety officer Tony Harrison, carries out regular risk assessments in the
warehouse and yard and is always looking at new methods of improving load security.
The company has recently begun to fit the Delta load securing system to its vehicles.
The Delta load anchor is inserted at any point along the full length of the lorry deck, inside the rave channel. It then provides fully secured strapping to any pallet, but uniquely the cargo will be restrained against the direction of travel. Bishop adds: "We think the system is excellent and undoubtedly improves safety. It ensures that the pallets are better secured and strapped in
both directions." The firm operates a total mixed fleet of 27 trucks and
three trailers. They consist of nine Scanias, eight Mercedes Benz, one Daf, three MANs and six new Iveco Stralis Hi-Roads. The vehicles are supplied and supported by the
following dealerships: Hendy Van and Truck (Iveco), Keltruck (Scania), HRVS (MAN) and Mertruck (Mercedes).
"We have a mixture of leased and owned vehicles in our fleet, which gives us the right level of flexibility," explains Bishop. "Our aim is to keep the fleet as young as possible in order to maximise fuel efficiencies, reduce breakdown risks and permit any vehicle to enter the LEZ in London."
The firm's Goodyearand Bridgestone-shod vehicles are on a full repair and maintenance agreements with the manufacturers and are inspected every six weeks. If there's a problem, we simply call the appropriate dealership — it's an arrangement that suits us well," says Bishop.
The firm recently purchased six new Euro-5 Iveco Stralis Hi-Roads, and has been impressed with the Italian manufacturer's new offering.
The right trucks at the right time
Bishop adds: "We have been delighted with the new Ivecos, they are the right truck at the right time. The drivers can't praise the comfort of the vehicle enough. We chose this model because we were impressed by the weight, fuel economy and price compared with its rivals.
"If drivers find themselves in tight spots at customer premises, the vehicles have excellent rear-steer capabilities, which are essential."
Several of the Uptonsteel lorries are fitted with the Slidaflex body — a flexible British-made device with a sliding roof ideal for transporting palletised sheet steel.
Back at head office, pinned on the drivers' notice board, is health and safety information in the form of Vosa and Freight Transport Association legal updates, as well as driver walk-around checklists, a maintenance planner and daily defect sheet.
The 27 drivers Uptonsteel employs regularly pop their heads around the door of Bishop's office to ask him for advice and it is clear that there is an excellent line of communication between them. There is also a digital card reader for drivers to check their hours. He says: "If any driver wants to reassure themselves that they have calculated their hours correctly, they can
do so instantly, it helps to avoid errors. We use Tachomaster to check the digital tachographs and the charts for our two analogue vehicles go away for analysis."
On track with the Driver CPC deadline
According to Bishop, the company's driver-trainer is well-versed in transport law and connects well with the drivers.
He explains: "Our Driver CPC courses are outsourced and we are now completing our latest modules, which we are on track to have finished on time.
"New drivers go through a thorough induction process with our driver trainer who is a full-time employee. We also use a specialist pool of trained agency drivers."
Each vehicle is equipped with the latest Ctrack technology, which allows Bishop to precisely track the location of every consignment.
The whole fleet is also fitted with cameras that are able to record any crash-for-cash incidents. Rob Wynne, operations manager at the company,
says: "We believe we run a very effective and compliant operation and can be benchmarked against the best. "That said, it won't stop us from continually looking at ways to improve even further." •
If the glove fits...
Uptonsteel recently carried out a review of its personal protective equipment where it was discovered that alternative products could offer their employees even better protection.
A decision was made to change from a traditional leather rigger glove to a range of gloves manufactured by Globus.
Its Showa range offered improved levels of defence and dexterity, and the drivers have been issued with the 350R type to offer greater protection and high levels of grip in all conditions.
Since the introduction, there has been a reduction in injuries to their hands.
Operations manager Rob Wynne says: "The co-operation with Globus was a big success, and working with experts and firms to improve safety is something we are keen to do more of in the future.
"Small things like testing out the best gloves for our employees can make a big difference."