Hauliers face ban if
6th February 2014
Page 3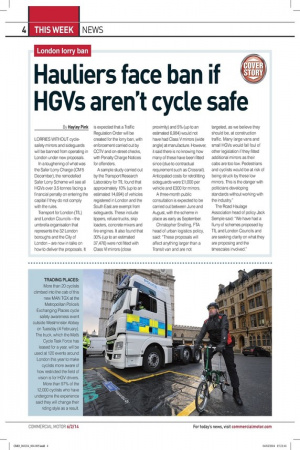 Page 3, 6th February 2014 —
Hauliers face ban if
Close
HGVs aren't cycle safe
By Hayley Pink
LORRIES WITHOUT cyclesafety mirrors and sideguards will be banned from operating in London under new proposals.
In a toughening of what was the Safer Lorry Charge (CM 5 December), the remodelled Safer Lorry Scheme will see all HGVs over 3.5 tonnes facing a financial penalty on entering the capital if they do not comply with the rules. Transport for London (TfL) and London Councils—the umbrella organisation that represents the 32 London boroughs and the City of London — are now in talks on how to deliver the proposals. It
is expected that a Traffic Regulation Order will be created for the lorry ban, with enforcement carried out by CCTV and on-street checks, with Penalty Charge Notices for offenders. A sample study carried out by the Transport Research Laboratory for TfL found that approximately 10% (up to an estimated 14,894) of vehicles registered in London and the South East are exempt from sideguards. These include tippers, refuse trucks, skip loaders, concrete mixers and fire engines. It also found that 30% (up to an estimated 37,476) were not fitted with Class VI mirrors (close
proximity) and 5% (up to an estimated 6,984) would not have had Class V mirrors (wide angle) at manufacture. However, it said there is no knowing how many of these have been fitted since (due to contractual requirement such as Crossrail). Anticipated costs for retrofitting sideguards were £1,000 per vehicle and £300 for mirrors.
A three-month public consultation is expected to be carried out between June and August, with the scheme in place as early as September. Christopher Snelling, FTA head of urban logistics policy, said: "These proposals will affect anything larger than a Transit van and are not
targeted, as we believe they should be, at construction traffic. Many large vans and small HGVs would fall foul of other legislation if they fitted additional mirrors as their cabs are too low. Pedestrians and cyclists would be at risk of being struck by these low mirrors. This is the danger with politicians developing standards without working with the industry." The Road Haulage
Association head of policy Jack Semple said: "We have had a flurry of schemes proposed by TfL and London Councils and are seeking clarity on what they are proposing and the timescales involved."