Competitive rules
6th February 2014
Page 23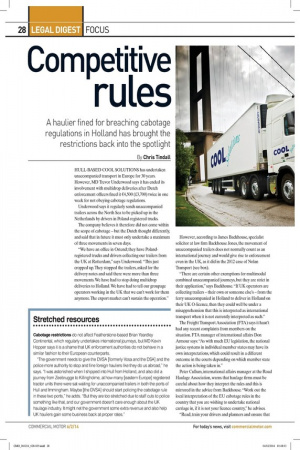 Page 24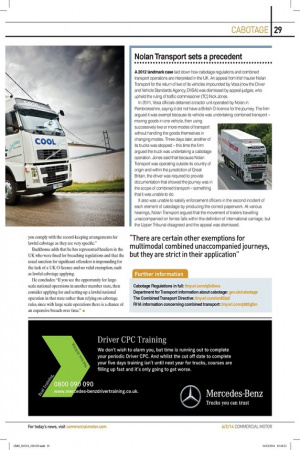 Page 23, 6th February 2014 —
Competitive rules
Close
A haulier fined for breaching cabotage regulations in Holland has brought the restrictions back into the spotlight By Chris Tindall
Stretched resources
Cabotage restrictions do not affect Featherstone-based Brian Yeardley Continental, which regularly undertakes international journeys, but MD Kevin Hopper says it is a shame that UK enforcement authorities do not behave in a similar fashion to their European counterparts.
"The government needs to give the DVSA [formerly Vosa and the DSA] and the police more authority to stop and fine foreign hauliers like they do us abroad," he says. "I was astonished when I shipped into Hull from Holland, and also did a journey from Zeebrugge to Killingholme, at how many [eastern Europe] registered tractor units there were sat waiting for unaccompanied trailers in both the ports of Hull and Immingham. Maybe [the DVSA] should start policing the cabotage rule in these two ports," he adds. "But they are too stretched due to staff cuts to police something like that, and our government doesn't care enough about the UK haulage industry. It might net the government some extra revenue and also help UK hauliers gain some business back at proper rates."
HULL-BASED COOL SOLUTIONS has undertaken unaccompanied transport in Europe for 30 years. However, MD Trevor Underwood says it has ended its involvement with multidrop deliveries after Dutch enforcement officers fined it €4,500 (£3,700) twice in one week for not obeying cabotage regulations.
Underwood says it regularly sends unaccompanied trailers across the North Sea to be picked up in the Netherlands by drivers in Poland-registered trucks.
The company believes it therefore did not come within the scope of cabotage — but the Dutch thought differently, and said that in future it must only undertake a maximum of three movements in seven days.
"We have an office in Ostend; they have Polandregistered trucks and drivers collecting our trailers from the UK at Rotterdam," says Underwood. "This just cropped up. They stopped the trailers, asked for the delivery notes and said there were more than three movements. We have had to stop doing multidrop deliveries to Holland. We have had to tell our groupage operators working in the UK that we can't work for them anymore. The export market can't sustain the operation."
However, according to James Backhouse, specialist solicitor at law firm Backhouse Jones, the movement of unaccompanied trailers does not normally count as an international journey and would give rise to enforcement even in the UK, as it did in the 2012 case of Nolan Transport (see box).
"There are certain other exemptions for multimodal combined unaccompanied journeys, but they are strict in their application," says Backhouse. "If UK operators are collecting trailers — their own or someone else's — from the ferry unaccompanied in Holland to deliver in Holland on their UK 0-licence, then they could well be under a misapprehension that this is interpreted as international transport when it is not currently interpreted as such."
The Freight Transport Association (FTA) says it hasn't had any recent complaints from members on the situation. FTA manager of international affairs Don Armour says: "As with much EU legislation, the national justice systems in individual member states may have its own interpretations, which could result in a different outcome in the courts depending on which member state the action is being taken in."
Peter Cullum, international affairs manager at the Road Haulage Association, warns that haulage firms must be careful about how they interpret the rules and this is mirrored in the advice from Backhouse. "Work out the local interpretation of the EU cabotage rules in the country that you are wishing to undertake national carriage in, if it is not your licence country," he advises. "Read, train your drivers and planners and ensure that
you comply with the record-keeping arrangements for lawful cabotage as they are very specific."
Backhouse adds that he has represented hauliers in the UK who were fined for breaching regulations and that the usual sanction for significant offenders is impounding for the lack of a UK 0-licence and no valid exemption, such as lawful cabotage applying. He concludes: "If you see the opportunity for largescale national operations in another member state, then consider applying for and setting up a lawful national operation in that state rather than relying on cabotage rules, since with large scale operations there is a chance of an expensive breach over time." •
Nolan Transport sets a precedent
A 2012 landmark case laid down how cabotage regulations and combined transport operations are interpreted in the UK. An appeal from Irish haulier Nolan Transport for the return of two of its vehicles impounded by Vosa (now the Driver and Vehicle Standards Agency, DVSA) was dismissed by appeal judges, who upheld the ruling of traffic commissioner (TO) Nick Jones. In 2011, Vosa officials detained a tractor unit operated by Nolan in Pembrokeshire, saying it did not have a British 0-licence for the journey. The firm argued it was exempt because its vehicle was undertaking combined transport — moving goods in one vehicle, then using successively two or more modes of transport without handling the goods themselves in changing modes. Three days later, another of its trucks was stopped — this time the firm argued the truck was undertaking a cabotage operation. Jones said that because Nolan Transport was operating outside its country of origin and within the jurisdiction of Great Britain, the driver was required to provide documentation that showed the journey was in the scope of combined transport — something
that it was unable to do.
It also was unable to satisfy enforcement officers in the second incident of each element of cabotage by producing the correct paperwork. At various hearings, Nolan Transport argued that the movement of trailers travelling unaccompanied on ferries falls within the definition of international carriage, but the Upper Tribunal disagreed and the appeal was dismissed.