Open borders
6th February 2014
Page 22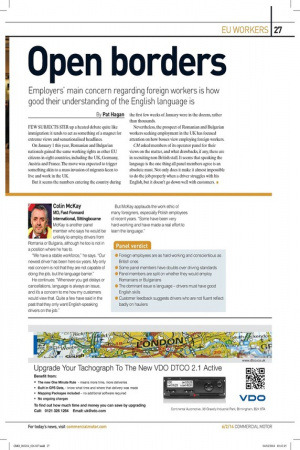 Page 22, 6th February 2014 —
Open borders
Close
Employers' main concern regarding foreign workers is how good their understanding of the English language is By Pat Hagan
FEW SUBJECTS STIR up a heated debate quite like immigration: it tends to act as something of a magnet for extreme views and sensationalised headlines.
On January 1 this year, Romanian and Bulgarian nationals gained the same working rights as other EU citizens in eight countries, including the UK, Germany, Austria and France. The move was expected to trigger something akin to a mass invasion of migrants keen to live and work in the UK. But it seems the numbers entering the country during
the first few weeks of January were in the dozens, rather than thousands.
Nevertheless, the prospect of Romanian and Bulgarian workers seeking employment in the UK has focused attention on how bosses view employing foreign workers. CM asked members of its operator panel for their views on the matter, and what drawbacks, if any, there are in recruiting non-British staff. It seems that speaking the language is the one thing all panel members agree is an absolute must. Not only does it make it almost impossible to do the job properly when a driver struggles with his English, but it doesn't go down well with customers. • Colin McKay MD, Fast Forward International, Sittingbourne McKay is another panel member who says he would be unlikely to employ drivers from
Romania or Bulgaria, although he too is not in a position where he has to.
"We have a stable workforce," he says. "Our newest driver has been here six years. My only real concern is not that they are not capable of doing the job, but the language barrier."
He continues: "Whenever you get delays or cancellations, language is always an issue, and it's a concern to me how my customers would view that. Quite a few have said in the past that they only want English-speaking drivers on the job."
But McKay applauds the work ethic of many foreigners, especially Polish employees of recent years. "Some have been very hard-working and have made a real effort to learn the language."
Panel verdict
• Foreign employees are as hard-working and conscientious as British ones • Some panel members have doubts over driving standards • Panel members are split on whether they would employ Romanians or Bulgarians • The dominant issue is language — drivers must have good English skills • Customer feedback suggests drivers who are not fluent reflect badly on hauliers