Operator panel
6th February 2014
Page 21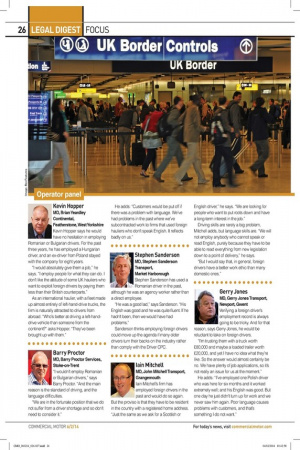 Page 21, 6th February 2014 —
Operator panel
Close
Kevin Hopper MD, Brian Yeardley Continental, Featherstone, West Yorkshire Kevin Hopper says he would have no hesitation in employing
Romanian or Bulgarian drivers. For the past three years, he has employed a Hungarian driver, and an ex-driver from Poland stayed with the company for eight years.
"I would absolutely give them a job," he says. "I employ people for what they can do. I don't like the attitude of some UK hauliers who want to exploit foreign drivers by paying them less than their British counterparts."
As an international haulier, with a fleet made up almost entirely of left-hand-drive trucks, the firm is naturally attracted to drivers from abroad. "Who's better at driving a left-handdrive vehicle than someone from the continent?" asks Hopper. "They've been brought up with them." Barry Proctor MD, Barry Proctor Services, Stoke-on-Trent "I wouldn't employ Romanian or Bulgarian drivers," says Barry Proctor. "And the main
reason is the standard of driving, and the language difficulties.
"We are in the fortunate position that we do not suffer from a driver shortage and so don't need to consider it."
He adds: "Customers would be put off if there was a problem with language. We've had problems in the past where we've subcontracted work to firms that used foreign hauliers who don't speak English. It reflects badly on us." Stephen Sanderson MD, Stephen Sanderson Transport, Market Harborough Stephen Sanderson has used a Romanian driver in the past,
although he was an agency worker rather than a direct employee.
"He was a good lad," says Sanderson. "His English was good and he was quite fluent. If he hadn't been, then we would have had problems."
Sanderson thinks employing foreign drivers could move up the agenda if many older drivers turn their backs on the industry rather than comply with the Driver CPC. lain Mitchell MD, John Mitchell Transport, Grangemouth
lain Mitchell's firm has employed foreign drivers in the past and would do so again. But the proviso is that they have to be resident in the country with a registered home address. "Just the same as we ask for a Scottish or
English driver," he says. "We are looking for people who want to put roots down and have a long-term interest in the job."
Driving skills are rarely a big problem, Mitchell adds, but language skills are. "We will not employ anybody who cannot speak or read English, purely because they have to be able to read everything from new legislation down to a point of delivery," he says.
"But I would say that, in general, foreign drivers have a better work ethic than many domestic ones." Jones MD, Gerry Jones Transport, Newport, Gwent Verifying a foreign driver's employment record is always going to be tricky. And for that
reason, says Gerry Jones, he would be reluctant to take on foreign drivers.
"I'm trusting them with a truck worth £80,000 and maybe a loaded trailer worth £20,000, and yet I have no idea what they're like. So the answer would almost certainly be no. We have plenty of job applications, so it's not really an issue for us at the moment."
He adds: "I've employed one Polish driver who was here for six months and it worked extremely well; and his English was good. But one day he just didn't turn up for work and we never saw him again. Poor language causes problems with customers, and that's something I do not want."