Free
6th February 2014
Page 16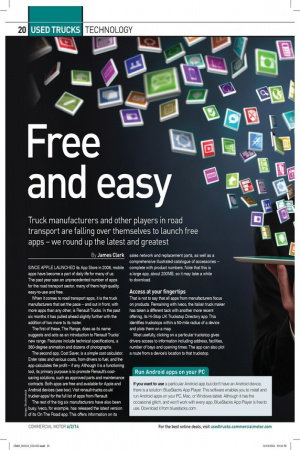 Page 17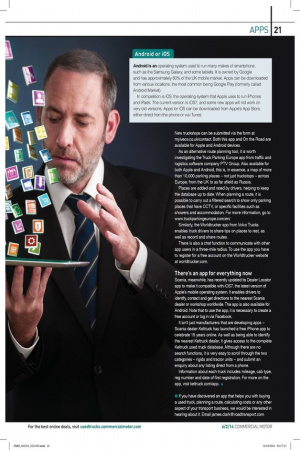 Page 16, 6th February 2014 —
Free
Close
and easy
Truck manufacturers and other players in road transport are falling over themselves to launch free apps we round up the latest and greatest By James Clark
SINCE APPLE LAUNCHED its App Store in 2008, mobile apps have become a part of dailylife for many of us. The past year saw an unprecedented number of apps for the road transport sector, many of them high-quality easy-to-use and free.
When it comes to road transport apps, it is the truck manufacturers that set the pace — and out in front, with more apps than any other, is Renault Trucks. In the past six months it has pulled ahead slightly further with the addition of two more to its roster.
The first of these, The Range, does as its name suggests and acts as an introduction to Renault Trucks' new range. Features include technical specifications, a 360-degree animation and dozens of photographs. The second app, Cost Saver, is a simple cost calculator. Enter rates and various costs, from drivers to fuel, and the app calculates the profit — if any. Although it is a functioning tool, its primary purpose is to promote Renault's costsaving solutions, such as approved parts and maintenance contracts. Both apps are free and available for Apple and Android devices (see box). Visit renault-trucks.co.ukt
112 trucker-apps/ for the full list of apps from Renault. 2 The rest of the big six manufacturers have also been a, busy. lveco, for example, has released the latest version of its On The Road app. This offers information on its
sales network and replacement parts, as well as a comprehensive illustrated catalogue of accessories — complete with product numbers. Note that this is a large app, about 200MB, so it may take a while to download.
Access at your fingertips
That is not to say that all apps from manufacturers focus on products. Remaining with lveco, the Italian truck maker has taken a different tack with another more recent offering, its Hi-Stop UK Truckstop Directory app. This identifies truckstops within a 50-mile radius of a device and plots them on a map.
Most usefully, clicking on a particular truckstop gives drivers access to information including address, facilities, number of bays and opening times. The app can also plot a route from a device's location to that truckstop.
New truckstops can be submitted via the form at myiveco.co.uk/contact. Both this app and On the Road are available for Apple and Android devices.
As an alternative route planning tool, it is worth investigating the Truck Parking Europe app from traffic and logistics software company PTV Group. Also available for both Apple and Android, this is, in essence, a map of more than 10,000 parking places — not just truckstops — across Europe, from the UK to as far afield as Russia. Places are added and rated by drivers, helping to keep the database up to date. When planning a route, it is possible to carry out a filtered search to show only parking places that have CCTV, or specific facilities such as showers and accommodation. For more information, go to www.truckparkingeurope.com/en/
Similarly, the Worldtrucker app from Volvo Trucks enables truck drivers to share tips on places to rest, as well as record and share routes.
There is also a chat function to communicate with other app users in a three-mile radius. To use the app you have to register for a free account on the Worldtrucker website at worldtrucker.com.
There's an app for everything now
Scania, meanwhile, has recently updated its Dealer Locator app to make it compatible with i057, the latest version of Apple's mobile operating system. It enables drivers to identify, contact and get directions to the nearest Scania dealer or workshop worldwide. The app is also available for Android. Note that to use the app, it is necessary to create a free account or log in via Facebook.
It isn't just manufacturers that are developing apps — Scania dealer Keltruck has launched a free iPhone app to celebrate 15 years online. As well as being able to identify the nearest Keltruck dealer, it gives access to the complete Keltruck used truck database. Although there are no search functions, it is very easy to scroll through the two categories — rigids and tractor units — and submit an enquiry about any listing direct from a phone.
Information about each truck includes mileage, cab type, reg number and date of first registration. For more on the app, visit keltruck.com/app. If you have discovered an app that helps you with buying a used truck, planning a route, calculating costs or any other aspect of your transport business, we would be interested in hearing about it. Email james.clark@roadtransport.com