A 'great' van with a smoking engine
6th February 2014
Page 15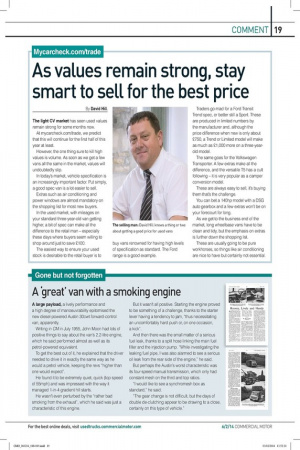 Page 15, 6th February 2014 —
A 'great' van with a smoking engine
Close
A large payload, a lively performance and a high degree of manoeuvrability epitomised the new diesel-powered Austin 30cwt forward-control van, apparently.
Writing in CM in July 1955, John Moon had lots of positive things to say about the van's 2.2-litre engine, which he said performed almost as well as its petrol-powered equivalent.
To get the best out of it, he explained that the driver needed to drive it in exactly the same way as he would a petrol vehicle, keeping the revs "higher than one would expect".
He found it to be extremely quiet, quick (top speed of 55mph) and was impressed with the way it managed 1-in-4 gradient hill starts.
He wasn't even perturbed by the "rather bad smoking from the exhaust", which he said was just a characteristic of this engine.
But it wasn't all positive. Starting the engine proved to be something of a challenge, thanks to the starter lever having a tendency to jam, "thus necessitating an uncomfortably hard push or, on one occasion, a kick".
And then there was the small matter of a serious fuel leak, thanks to a split hose linking the main fuel filter and the injection pump. "While investigating the leaking fuel pipe, I was also alarmed to see a serious oil leak from the rear side of the engine," he said.
But perhaps the Austin's worst characteristic was its four-speed manual transmission, which only had constant mesh on the third and top ratios.
"I would like to see a synchromesh box as standard," he said.
"The gear change is not difficult, but the days of double de-clutching appear to be drawing to a close, certainly on this type of vehicle."