Holding back the years
6th February 2014
Page 11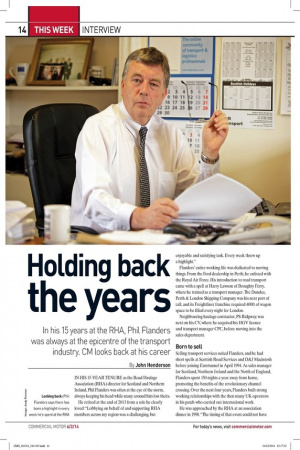 Page 12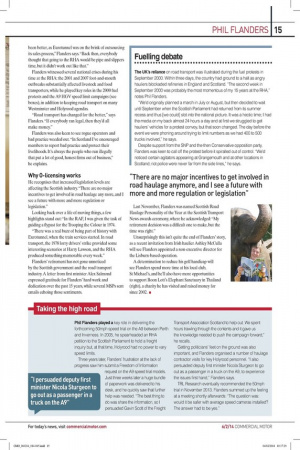 Page 11, 6th February 2014 —
Holding back the years
Close
In his 15 years at the RHA, Phil Flanders was always at the epicentre of the transport industry. CM looks back at his career By John Henderson
IN HIS 15-YEAR TENURE as the Road Haulage Association (RHA) director for Scotland and Northern Ireland, Phil Flanders was often at the eye of the storm, always keeping his head while many around him lost theirs. He retired at the end of 2013 from a role he clearly loved: "Lobbying on behalf of and supporting RHA members across my region was a challenging, but enjoyable and satisfying task. Every week threw up a highlight
Flanders' entire working life was dedicated to moving things. From the Ford dealership in Perth, he enlisted with the Royal Air Force. His introduction to road transport came with a spell at Harry Lawson of Broughty Ferry, where he trained as a transport manager. The Dundee, Perth & London Shipping Company was his next port of call, and its Freightliner franchise required 400ft of wagon space to be filled every night for London.
Neighbouring haulage contractor, PS Ridgway, was next on his CV, where he acquired his HGV licence and transport manager CPC, before moving into the sales department.
Born to sell
Selling transport services suited Flanders, and he had short spells at Scottish Road Services and D&J Macintosh before joining Eurotunnel in April 1994. As sales manager for Scotland, Northern Ireland and the North of England, Flanders spent 150 nights a year away from home, promoting the benefits of the revolutionary channel crossing. Over the next four years, Flanders built strong working relationships with the then many UK operators in his patch who carried out international work. He was approached by the RHA at an association dinner in 1998. "The timing of that event could not have
been better, as Eurotunnel was on the brink of outsourcing its sales process," Flanders says. "Back then, everybody thought that going to the RHA would be pipe and slippers time, but it didn't work out like that."
Flanders witnessed several national crises during his time at the RHA: the 2001 and 2007 foot-and-mouth outbreaks substantially affected livestock and food transporters, while he played key roles in the 2000 fuel protests and the A9 HGV speed limit campaigns (see boxes), in addition to keeping road transport on many Westminster and Holyrood agendas.
"Road transport has changed for the better," says Flanders. "If everybody ran legal, then they'd all make money."
Flanders was also keen to see rogue operators and bad practice weeded out. "In Scotland I've encouraged members to report bad practice and protect their livelihoods. It's always the people who run illegally that put a lot of good, honest firms out of business," he explains.
Why 0-licensing works
He recognises that increased legislation levels are affecting the Scottish industry. "There are no major incentives to get involved in road haulage any more, and I see a future with more and more regulation or legislation."
Looking back over a life of moving things, a few highlights stand out: "In the RAF, I was given the task of guiding a flypast for the Trooping the Colour in 1974.
"There was a real buzz of being part of history with Eurotunnel, when the train services started. In road transport, the 1978 lorry drivers' strike provided some interesting scenarios at Harry Lawson, and the RHA produced something memorable every week."
Flanders' retirement has not gone unnoticed by the Scottish government and the road transport industry. A letter from first minister Alex Salmond expressed gratitude for Flanders' hard work and dedication over the past 15 years, while several MSPs sent emails echoing those sentiments.
Last November, Flanders was named Scottish Road Haulage Personality of the Year at the Scottish Transport News awards ceremony, where he acknowledged: "My retirement decision was a difficult one to make, but the time was right."
Unsurprisingly this isn't quite the end of Flanders' story, as a recent invitation from Irish haulier Ashley McCulla will see Flanders appointed a non-executive director for the Lisburn-based operation. A determination to reduce his golf handicap will see Flanders spend more time at his local club, St Michael's, and he'll also have more opportunities to support Boon Lott's Elephant Sanctuary in Thailand (right), a charity he has visited and raised money for since 2002. •
Fuelling debate
The UK's reliance on road transport was illustrated during the fuel protests in September 2000. Within three days, the country had ground to a halt as angry hauliers blockaded refineries in England and Scotland. "The second week in September 2000 was probably the most momentous of my 15 years at the RHA," notes Phil Flanders.
"We'd originally planned a march in July or August, but then decided to wait until September when the Scottish Parliament had returned from its summer recess and thus [we could] slot into the national picture. It was a hectic time; I had the media on my back almost 24 hours a day and at first we struggled to get hauliers' vehicles for a protest convoy, but that soon changed. The day before the event we were phoning around trying to limit numbers as we had 400 to 500 trucks involved," he says.
Despite support from the SNP and the-then Conservative opposition party, Flanders was keen to call off the protest before it spiralled out of control. "We'd noticed certain agitators appearing at Grangemouth and at other locations in Scotland; riot police were never far from the side lines," he says.