CONTRACT HIRE
6th February 1992
Page 40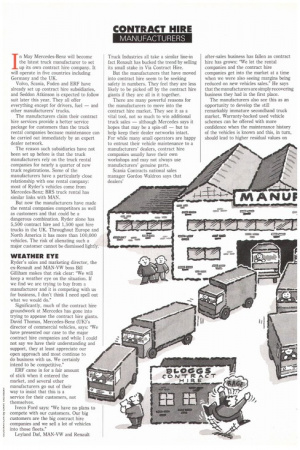 Page 41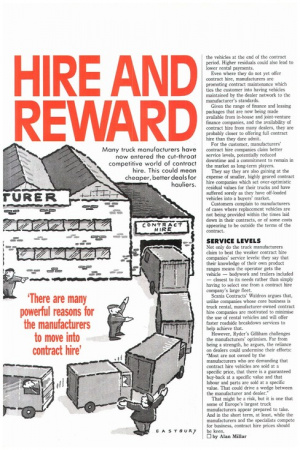 Page 40, 6th February 1992 —
CONTRACT HIRE
Close
MANUFACTURERS
In May Mercedes-Benz will become the latest truck manufacturer to set up its own contract hire company. It will operate in five countries including Germany and the UK.
Volvo, Scania, Foden and ERF have already set up contract hire subsidiaries, and Seddon Atkinson is expected to follow suit later this year. They all offer everything except for drivers, fuel — and other manufacturers' trucks.
The manufacturers claim their contract hire services provide a better service package for customers than the truck rental companies because maintenance can be carried out immediately by an expert dealer network.
The reason such subsidiaries have not been set up before is that the truck manufacturers rely on the truck rental companies for nearly a quarter of new truck registrations. Some of the manufacturers have a particularly close relationship with one rental company: most of Ryder's vehicles come from Mercedes-Benz; BRS truck rental has similar links with MAN.
But now the manufacturers have made the rental companies competitors as well as customers and that could be a dangerous combination. Ryder alone has 5,500 contract hire and 1,500 spot hire trucks in the UK. Throughout Europe and North America it has more than 100,000 vehicles. The risk of alienating such a major customer cannot be dismissed lightly.
WEATHER EYE
Ryder's sales and marketing director, the ex-Renault and MAN-VW boss Bill Gilliham makes that risk clear: "We will keep a weather eye on the situation. If we find we are trying to buy from a manufacturer and it is competing with us for business, I don't think I need spell out what we would do."
Significantly, much of the contract hire groundwork at Mercedes has gone into trying to appease the contract hire giants. David Thomas, Mercedes-Benz (1110's director of commercial vehicles, says: "We have presented our case to the major contract hire companies and while I could not say we have their understanding and support, they at least appreciate our open approach and most continue to do business with us. We certainly intend to be competitive."
ERF came in for a fair amount of stick when it entered the market, and several other manufacturers go out of their way to insist that this is a service for their customers, not themselves.
Iveco Ford says: "We have no plans to compete with our customers. Our big customers are the big contract hire companies and we sell a lot of vehicles into those fleets."
Leyland Daf, MAN-VW and Renault Truck Industries all take a similar line-in fact Renault has bucked the trend by selling its small stake in Via Contract Hire.
But the manufacturers that have moved into contract hire seem to be seeking safety in numbers. They feel they are less likely to be picked off by the contract hire giants if they are all in it together.
There are many powerful reasons for the manufacturers to move into the contract hire market. They see it as a vital tool, not so much to win additional truck sales — although Mercedes says it hopes that may be a spin-off — but to help keep their dealer networks intact. For while many small operators are happy to entrust their vehicle maintenance to a manufacturers' dealers, contract hire companies usually have their own workshops and may not always use manufacturers' genuine parts.
Scania Contracts national sales manager Gordon Waldron says that dealers' after-sales business has fallen as contract hire has grown: "We let the rental companies and the contract hire companies get into the market at a time when we were also seeing margins being reduced on new vehicles sales." He says that the manufacturers are simply recovering business they had in the first place.
The manufacturers also see this as an opportunity to develop the still remarkably immature secondhand truck market. Warranty-backed used vehicle schemes can be offered with more confidence when the maintenance history of the vehicles is known and this, in turn, should lead to higher residual values on the vehicles at the end of the contract period. Higher residuals could also lead to lower rental payments.
Even where they do not yet offer contract hire, manufacturers are promoting contract maintenance which ties the customer into having vehicles maintained by the dealer network to the manufacturer's standards.
Given the range of finance and leasing packages that are now being made available from in-house and joint-venture finance companies, and the availability of contract hire from many dealers, they are probably closer to offering full contract hire than they dare admit.
For the customer, manufacturers' contract hire companies claim better service levels, potentially reduced downtime and a commitment to remain in the market as long-term players.
They say they are also gaining at the expense of smaller, highly geared contract hire companies which set over-optimistic residual values for their trucks and have suffered sorely as they have off-loaded vehicles into a buyers' market.
Customers complain to manufacturers of cases where replacement vehicles are not being provided within the times laid down in their contracts, or of some costs appearing to be outside the terms of the contract.
SERVICE LEVELS
Not only do the truck manufacturers claim to beat the weaker contract hire companies' service levels: they say that their knowledge of their own product ranges means the operator gets the vehicle — bodywork and trailers included — closest to its needs rather than simply having to select one from a contract hire company's large fleet.
Scalia Contracts' Waldron argues that, unlike companies whose core business is truck rental, manufacturer-owned contract hire companies are motivated to minimise the use of rental vehicles and will offer faster roadside breakdown services to help achieve that.
However, Ryder's Gilliham challenges the manufacturers' optimism. Far from being a strength, he argues, the reliance on dealers could undermine their efforts: "Most are not owned by the manufacturers who are demanding that contract hire vehicles are sold at a specific price, that there is a guaranteed buy-back at a specific value and that labour and parts are sold at a specific value. That could drive a wedge between the manufacturer and dealer."
That might be a risk, but it is one that some of Europe's largest truck manufacturers appear prepared to take. And in the short term, at least, while the manufacturers and the specialists compete for business, contract hire prices should be keen.
El by Alan Millar